THE NORTH FACE MEN'S STORMY TRAIL JACKET -
SPECIAL OFFER
Quality men's sports jacket, waterproof nylon material, FlashDry technology, 2 pockets, reflective elements, autumn collection 2012.
We are sorry, but this product is no longer available.
Recommended accessories
Description
Parameters
Alternatives (5)
THE NORTH FACE MEN'S STORMY TRAIL JACKET
Men's jacket THE NORTH FACE Stormy Trail is a modern jacket made from super lightweight functional materials. With its precision cut, extra lightweight materials and high functionality, this jacket has become a popular sportswear. New FlashDry technology, by which there is a special fabric made of coconut fibers and crushed volcanic rock inserted into the fiber, significantly improves breathability of the jacket, while the thermal insulation is still maintained. Finally, the material is waterproof, so the men's jacket THE NORTH FACE Stormy Trail can be worn even in harsh and cold conditions.
Technical parameters:
men's sports jacket of the THE NORTH FACE brand
super lightweight and high-quality waterproof material
FlashDry technology consisting of special fibers
excellent thermal insulation
front part closable by zipper
2 pockets
reflective elements
material: nylon 
suitable for running, cycling, Nordic walking and normal walking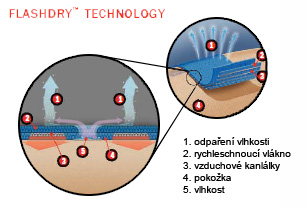 THE NORTH FACE MEN'S STORMY TRAIL JACKET - Product parameters
THE NORTH FACE MEN'S STORMY TRAIL JACKET - alternatives -
all in stock
THE NORTH FACE MEN'S STORMY TRAIL JACKET is included in the following categories: