Wall Bars w/ Pull-Up Bar inSPORTline Directline 220 x 80 cm
Wall bars with a removable wooden pull-up bar suitable for rooms with standard ceilings, secured to wall, easy installation.
Recommended accessories
Description
Parameters
Alternatives (8)
Wall Bars w/ Pull-Up Bar inSPORTline Directline 220 x 80 cm
Made of beech wood, the Wall Bars w/ Pull-Up Bar inSPORTline Directline 220 x 80 cm are sturdy wall bars with a weight limit of 130 kg. They feature 10 cross bars that are attached to the horizontal bars with steel screws. The two upper bars can be used to attach various training accessories. The wood is coated with a special, moisture- and abrasion-resistant varnish. Furthermore, the varnish is eco-friendly and non-toxic. The Wall Bars inSPORTline Directline 220 x 80 cm are designed to be easily mounted to a wall with metal plates that are included.
Intended for home exercise, these wall bars will help you improve your fitness, strengthen your muscles and improve your balance. Their height makes these wall bars suitable for rooms with high ceilings. If you are looking for a universal station for a full body workout, then the Wall Bars w/ Pull-Up Bar inSPORTline Directline 220 x 80 cm are the perfect choice.
Wall bars are a great multi-purpose exercise tool. However, their versatility can be further expanded via various accessories.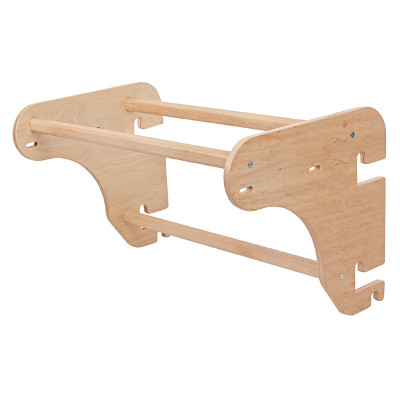 Thanks to the included pull-up bar, which you can hang on any of the cross bars, you will be able to exercise back muscles and the rest of the upper half of your body. You might also appreciate one of our resistance bands. They provide resistance and lower the weight you work with and as such allow even beginners to handle these hard exercises. But if you consider these kinds of exercises too easy, you can try working with body weights.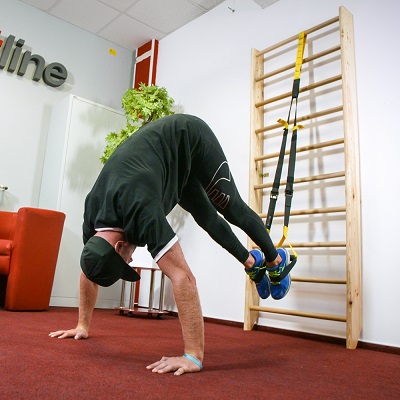 A suspension system is another popular accessory. It can be easily attached to one of the cross bars, offering a variety of bodyweight exercise options. You might appreciate its compact size, high weight limit and wide range of length adjustment.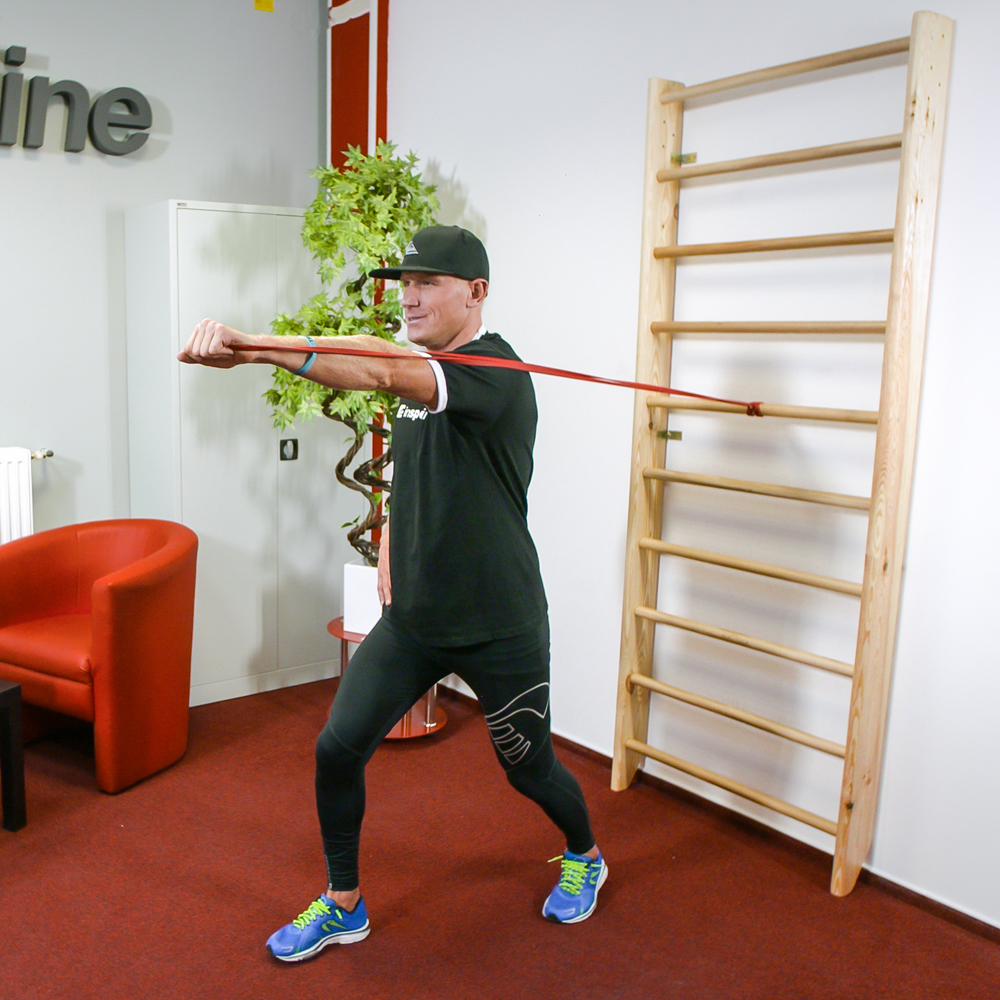 You can also attach exercise bars or resistance bands, which work with resistance and are suitable for everyone (thanks to their versatility). They are perfect not only for stretching, but also help those with muscle coordination problems or those recovering from an injury.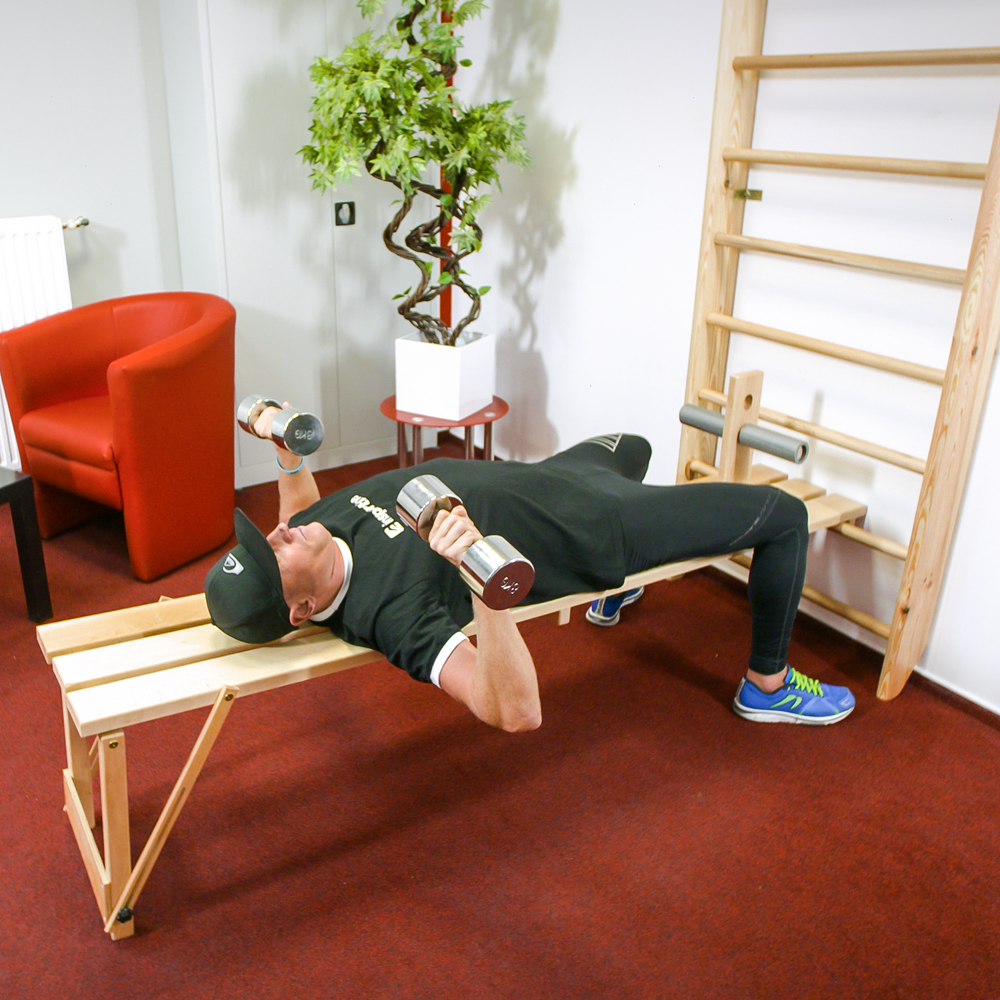 Last, but not least, you'll surely appreciate a bench for wall bars, suitable for jumps, sit-ups, dumbbell exercises, etc. You can also tilt the bench and exercise at an angle. Get one of these accessories to make the most of your new wall bars.
Technical description:
Solid beech wood
Durable and resistant
Removable wooden pull-up bar that can be attached to any of the cross bars
Steel screws for assembly
Steel mounting plates
Double-coated surface (colorless, odorless and extremely durable varnish)
2 top bars for attaching accessories
10 bars (8 + 2)
Space between bars: 215 mm
Bar profile: W 30 x H 40 mm
Height: 220 cm
Width: 80 cm
Depth: 10 cm
Weight limit: 130 kg
Pull-up bar weight limit: 100 kg
All parts have to be assembled – you cannot skip parts at will
Wall bars do not have bottom cut out for a slat
Screws and anchor bolts included
Delivered disassembled
Image shown is for illustration purposes only
Warning: To attach the pull-up bar, it is necessary to leave a sufficient distance between the wall and the wall bars during installation. (Install only on the first three holes on the brackets.)
Wall Bars w/ Pull-Up Bar inSPORTline Directline 220 x 80 cm - Product parameters
Weight limit (kg)
By observing the weight limit of the product, you significantly increase its service life and prevent it from wearing down prematurely. It is not recommended to exceed this limit.
130 kg
Vertical bar material
Beech wood
Crossbar material
Beech wood
Number of crossbars
10 pcs
Distance between crossbars
215 mm
Wall Bars w/ Pull-Up Bar inSPORTline Directline 220 x 80 cm - alternatives -
all in stock
Wall Bars w/ Pull-Up Bar inSPORTline Directline 220 x 80 cm is included in the following categories: