Women functional biker pants Newline
Men's thermo-active biker pants with a special antibacterial pad in the crotch, areas for effective perspiration removal, suitable for cycling
We are sorry, but this product is no longer available.
Recommended accessories
Description
Parameters
Alternatives (3)
Video (1)
Women functional biker pants Newline
Quality men's thermo pants Brubeck FIT with padding with a technology FIT Body Guard. Special fabric with FIT Body Guard technology is moderately thick double layer knitwear sewn by seamless technology, providing rapid sweat removal to the outside, which helps to keep the skin dry even during time-consuming sport activities such as cycling. The thermo layer has specific areas of increased permeability in areas of higher emission of sweat. The whole system provides the right microclimate, releases moisture and helps to maintain a pleasant feeling of freshness. Unique double structure, where the bottom layer provides removal of sweat and the top layer maintains optimal body temperature. The crotch of the biker pants Brubeck FIT is fitted with a special pad with antibacterial protection. This pad is made of three layers of special stuffing that can absorb moisture and effectively absorbs shocks.
Graphical representation of thermo-active properties:
A - SkinB - Dry Body Guard ™ inner layerC - Dry Body Guard ™ outer layer1 - The release of sweat outside2 - Thermal insulation to the external environment3 - Maintaining an optimal body temperature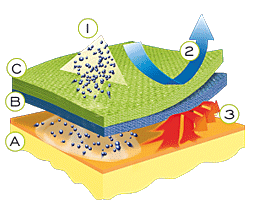 Technical description:
Quality and flexible material with high resistance
Double layer knitwear for sweat removal and maintaining optimal body temperature
Pad with antibacterial layer and shock absorption system
Anatomically correct body shape adjustment
Seamless technology
Increased permeability in areas of higher sweat emission
New design
Material: 62% polyamide, 35% polypropylene, 3% elastane
Women functional biker pants Newline - Product parameters
Women functional biker pants Newline - alternatives -
all in stock
Lady's bike shorts 4EVER - short
More info
Cycling pants KELLYS PRO SPORT
More info
Women's Cycling Pants Kellys Megan 3/4
More info
Women functional biker pants Newline is included in the following categories: