Women's Ice Skates K2 Alexis Ice Pro 2021
Insulated ice skates, steel blades, quick and easy closure, composite frame provides outstanding ankle support.
We are sorry, but this product is no longer available.
Recommended accessories
Description
Parameters
Alternatives (8)
Women's Ice Skates K2 Alexis Ice Pro 2021
The Women's Ice Skates K2 Alexis Ice Pro 2021 are reliable ice skates which provide maximum comfort. Years ago, K2 introduced the unique K2 Softboot© patented design which combines adjustable and breathable materials, ensuring that the inside of the skate is as comfortable as possible. Moreover, the special Thinsulate insole protects your feet from the cold and keeps them warm. The insole is considered the best thin thermal insulation for ice skates. 
You may also appreciate the reinforced ankle (Stability Plus Cuff) which provides excellent support. Thanks to the quick-release K2 Speed Lacing system, you do not have to bother with complicated lacing when you are putting the skates on. Since the laces are connected to the tongue, you can tighten the skates up with only one pull. The Women's Ice Skates K2 Alexis Ice Pro 2021 feature high-quality steel blades which are integrated to the frame. Skate away and enjoy the winter season!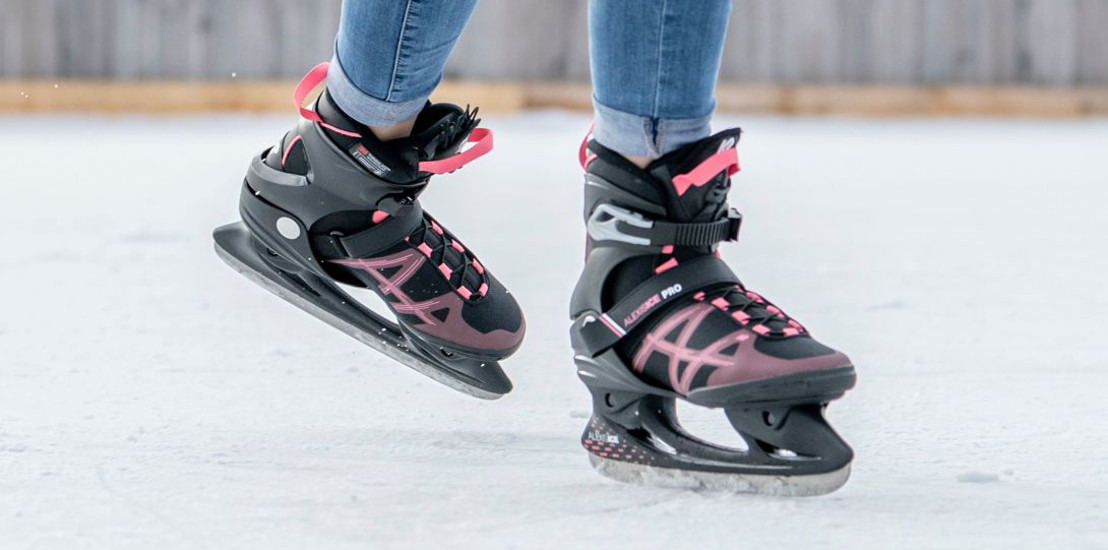 Technical description:
Lightweight and warm skates with unique lacing system
Made by world's famous brand – K2
Patented technology (K2 Softboot©) – comfortable and adjustable inner shoe material
Special Thinsulate insole provides thermal insulation
Reinforced ankle – Stability Plus Cuff
K2 Speed Lacing system allows you to tighten skates up with only one pull
One-piece frame
Water-resistant surface
Suitable for recreational use
Blades: toothless, stainless steel
Frame: lightweight and durable composite material
Closure: K2 Speed Lacing, buckle, Velcro strap
Weight limit: 100 kg
Women's Ice Skates K2 Alexis Ice Pro 2021 - Product parameters
Weight limit (kg)
By observing the weight limit of the product, you significantly increase its service life and prevent it from wearing down prematurely. It is not recommended to exceed this limit.
100 kg
Blade
Ice skate blades differ mainly in the design of the front part of the blade.
Blades with toe picks can be seen especially on women's skates. They allow for a figure-skating style, where the skater can use the toe picks to stop their movement.
Blades without toe picks are typical for men's types of skates. They are suitable for a fast hockey-style skating.
Thanks to the high-quality stainless steel, the blades are corrosion resistant.
stainless steel without toe picks
Frame
Frame is the main art of every skate.
Ice skates are designed to with stand low temperatures and potential puck hits. That's why most of them feature durable plastic frame.
Most adjustable 2in1 skates are also made of plastic.
Aluminium ensures durability, speed and light weight. Aluminium frames are found mostly in summer inline skates.
Composite
Fastening
Type of fastening depends on the purpose of your skates.
Men's and women's ice skates are fastened by laces which are perfect for tightening the skate around your foot when ice skating.
Inline skates usually feature a combination of lacing and buckles or Velcro straps. The laces comfortably adjust your foot on the shoe and the straps and bucles will secure your ankle.
Both ice and inline children's skates, are mostly secured with buckles. They are easy to use and very popular among children. They are suitable for all children that lack the strength to tighten laces or those who can't yet tie them.
K2 Speed Lacing
Other benefits
Special inner lining
Women's Ice Skates K2 Alexis Ice Pro 2021 - alternatives -
all in stock
Women's Ice Skates K2 Alexis Ice Pro 2021 is included in the following categories: