Seat Cushion Massager inSPORTline Chairolee
Seat cushion that provides an intense back massage, can be used with all chairs, you can choose from 3 massage modes, vibrations with 3 intensity levels and there's also a heating mode.
Recommended accessories
Description
Parameters
Alternatives (5)
Seat Cushion Massager inSPORTline Chairolee
The Seat Cushion Massager inSPORTline Chairolee will help you turn any chair into an amazing massage chair! The 2 massage heads provide an intense back massage. You can choose from 3 massage modes – a full body massage, a lower back massage and an upper back massage. You might also want to try seat vibrations (you can choose from 3 intensity levels). And since there are heating elements in the massage heads, you can enjoy a heated massage.
You can switch between the individual massage modes using a remote control with clearly marked buttons. When you're done setting up your massage, just put the remote control in the Velcro side pocket. To make your massage even more comfortable, you can also attach a head rest. All you have to do to turn the cushion on is plug it into an outlet. The Seat Cushion Massager inSPORTline Chairolee will make sitting at a computer a lot less challenging. And when you're at home, just find a quiet place, sit back and enjoy your massage.
Technical description:
2 powerful massage heads with adjustable heating
Easy-to-use remote control
AC adaptor (220 V)
3 types of back massage: full, lower back, upper back
3 intensity levels of seat vibrations
Heated massage
Vibrations and heating can be turned off
Velcro strap for attaching cushion to chair
Automatic shut-off after 15 minutes

Heating takes place directly through the massage heads

Material: synthetic leather / textile (for added breathability)
Seat dimensions: 39 x 35 cm
Backrest dimensions: 70 x 39 cm (lower part) / 30 cm (upper part)
Recommended weight limit: 120 kg
Weight: 2.8 kg
Exercised body areas: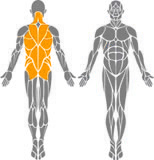 Seat Cushion Massager inSPORTline Chairolee - Product parameters
Number of massage intensity levels
With every massage chair, you can set the massage intensity. It is the amount of pressure the massage heads and valves put on your body. Massage chairs usually have three intensity settings (low, average and high). However, higher-class chairs can feature more intensity levels.
3
Number of programs
Most massage chairs feature several pre-set or manual programs. These programs are specially designed to fulfill the user's needs. For example, there is relaxing massage, relieving massage, fitness massage and others. The number of programs varies from chair to chair but generally it can be said that the higher-class the chair is, the more programs it has.
3
Material
The chair frame is usually made up of a combination of metal, wooden and plastic materials. The upholstery itself is then made of either genuine or synthetic leather. Genuine leather has a more luxurious look, however it is much harder to maintain. Synthetic leather is often hard to distinguish from genuine leather and its  maintenance is much easier. Synthetic leather also provides longer service life, which is why it is recommended for more frequent use.
Artificial leather
Weight
The total weight of the product.
2.80 kg
Seat Cushion Massager inSPORTline Chairolee - alternatives -
all in stock
Seat Cushion Massager inSPORTline Chairolee is included in the following categories: