E-Scooter inSPORTline Skootie Pro 8" w/ Seat
Folding e-scooter with comfortable seat and suspension on both wheels.
Recommended accessories
Description
Parameters
Alternatives (8)
E-Scooter inSPORTline Skootie Pro 8" w/ Seat
The E-Scooter inSPORTline Skootie Pro is perfect not only for riding to work/school, but also for recreational riding and all kinds of trips. Even though it is a powerful scooter, it weight is low (thanks to its lightweight aluminum frame). Moreover, you can fold the scooter up or unfold it in no time, making it easy to carry around and/or store. Its 25 km/h max speed makes the scooter suitable for road traffic. With its 120kg weight limit, roads with a 15 percent slope will be no problem for this scooter, making it suitable for uphill riding. Placed in the rear wheel, the brushless motor is maintenance free.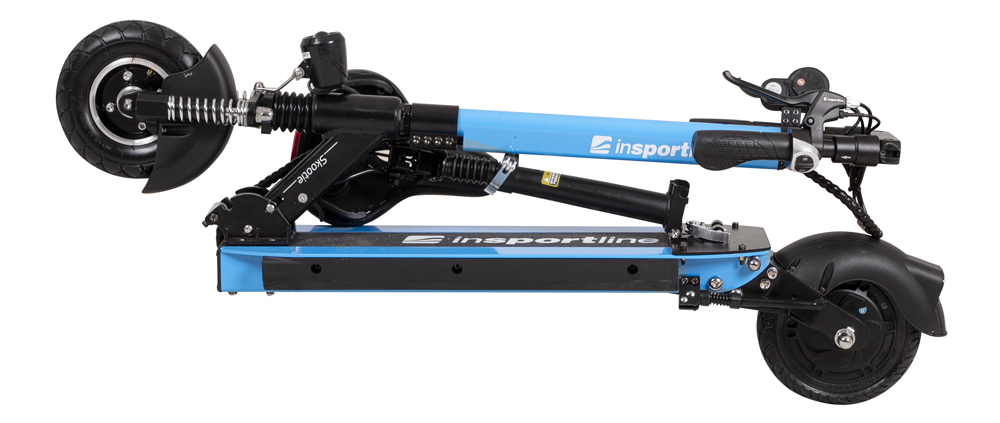 The 13Ah lithium battery allows for a 40km distance range on a single charge (the battery charges to full capacity in 6 to 8 hours). As a result, you can use the scooter more than once before having to recharge the battery. Moreover, you can use the scooter even if the battery is dead. Placed in the deck, the battery will not bother you during the ride. You can easily recharge it using the compact charger, which you can take everywhere you go.
Its adjustable handlebar height (94 – 124 cm) makes the E-Scooter inSPORTline Skootie Pro suitable for both children (10+) and adults. The easy-to-read, color display allows you to follow all the important information such as current speed, battery status, current distance covered, overall distance covered and time. Moreover, the display also features a USB port which you can use to charge your cell phone.

The E-Scooter inSPORTline Skootie Pro has top-quality features. The main feature is the wide, comfortable, height-adjustable suspension seat that is similar to those on urban bikes. The 8" wheels (front – inflatable, rear – tubeless) with high-quality tires and suspension allow for a smooth ride and provide excellent riding characteristics. The reliable drum brake on the rear wheel will keep you safe even at high speeds. 
Lighting is another safety feature. Apart from battery-powered front and rear lights, the E-Scooter inSPORTline Skootie Pro also features a brake light which lights up when the brake is activated. Moreover, there are also lights that are integrated into the deck, complementing the scooter's design and improving visibility in low light conditions. The two fenders will come in handy in adverse weather while the large deck will make you comfortable on longer trips. The wide handlebars with ergonomic, soft foam handle grips provide additional comfort.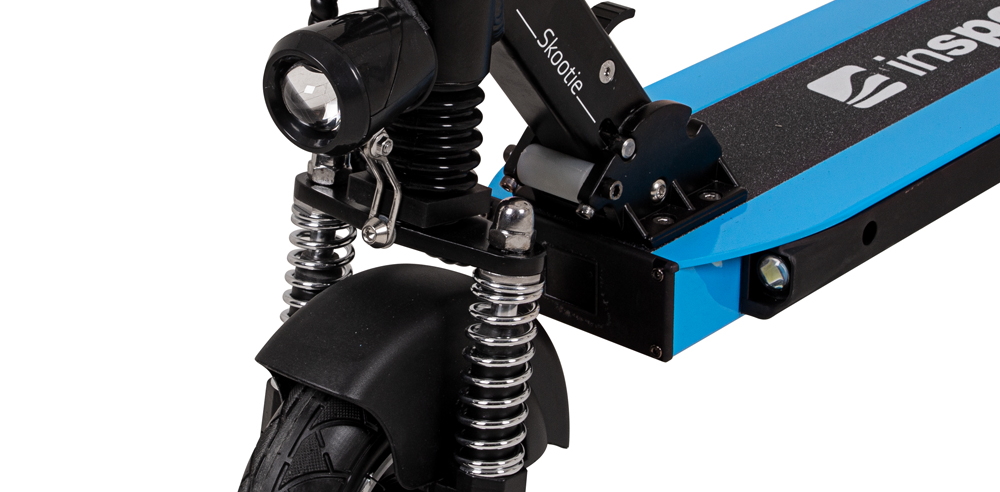 Going on a longer trip? Use cruise control. Just let the scooter run at the same speed for a while and the cruise control will automatically activate. You can then release the throttle and ride. Cruise control is switched off during braking. If you do not want to use the cruise control at all, you can deactivate it in the scooter menu.
The scooter won't start on its own (i.e. when you accidentally hit the brake lever). You have to push off the ground to get it going (just like regular scooters). If you want to use the motor from the get-go, though, you can do so – all you have to do is adjust the settings in the display menu (where you can also choose how aggressive the start should be).
Suitable for all kinds of trips, as well as recreational and fast riding, this trendy scooter is perfect for both adults and children.
Battery storage and maintenance: We recommend storing the battery (or the entire product including the battery) in a shady, dry place at temperatures between 10 ° C and 20 ° C. If you do not intend to use the product for a long time, we recommend charging the battery and recharging it to 100% capacity at least once a month. Follow these guidelines to prevent the battery's nominal capacity from declining rapidly over its lifetime.

Technical description:
| | |
| --- | --- |
| Frame material | aluminum |
| Engine power | 500 W |
| Engine type | brushless |
| Max engine revolutions | 1200/min |
| Max torque | 9.5 Nm |
| Speed modes  | 20/25/35 km/h |
| Max slope | 8.5° (15 %) |
| Battery | Li-Ion 13 Ah, 48 V |
| Distance range on single charge | 40 km |
| Charging time to full capacity | 6 - 8 h |
| Brakes | Rear drum |
| Tires | Front inflatable, rear tubeless |
| Tire size | 8" (20.3 cm) |
| Max inflation | 2.5 bar / 36 psi |
| Deck dimensions | 67 x 18.5 cm |
| Deck height (top) | 20 cm |
| Deck height (bottom) | 15 cm |
| Handlebar height (from ground) | 94 - 124 cm |
| Handlebar width | 57 cm |
| Seat height (from deck) | 43 - 58 cm |
| Lights | Front/rear lights, front/rear lights in deck, brake light (automatic) |
| Dimensions | 113 x 57 x 124 cm |
| Collapsed dimensions | 113 x 26 x 38 cm |
| Recommended minimum user height | 130 cm |
| Weight limit | 120 kg |
| Weight | 13.5 kg (w/o battery), 17,7 kg (w battery), 18 kg (w/ seat and battery) |
| Setting options | Cruise control, start w/ or w/o push-off, smooth start |
| Accessories | Removable suspension seat, folding mechanism (incl. handlebar grips), multifunctional backlit color display (battery-powered), kickstand, front and rear shock absorber, fenders, USB port for cell phone charging |
E-Scooter inSPORTline Skootie Pro 8" w/ Seat - Documents to download
E-Scooter inSPORTline Skootie Pro 8" w/ Seat - Product parameters
Minimum recommended user height
130 cm
Battery
Li-Ion 13Ah / 48V
Dimensions
1130 x 570 x 1240 mm
Wheel type
Inflatable + tubeless
Motor placement
in the rear wheel
Regenerative brakes
Regenerative brakes allow for the transformation of braking energy back into usable electric energy.
no
E-Scooter inSPORTline Skootie Pro 8" w/ Seat - alternatives -
all in stock
E-Scooter inSPORTline Skootie Pro 8" w/ Seat is included in the following categories: