Bike Trainer Elite Qubo Fluid
Folding bike trainer with hydraulic resistance, progressive resistance (depends on pedaling intensity), elastogel cylinder that reduces noise and prevents tube damage.
We are sorry, but this product is no longer available.
Recommended accessories
Description
Parameters
Alternatives (3)
Video (1)
Bike Trainer Elite Qubo Fluid
The Bike Trainer Elite Qubo Fluid is a home trainer that allows you to ride your bike even in adverse weather. It will help you maintain your fitness in the winter. This machine features a progressive hydraulic braking system, i.e. the harder you pedal, the higher the resistance. As a result, the machine is suitable for beginners as well as experienced users and for both light and intense workout. The rider's weight affects the resistance, i.e. a heavier user will have to pedal harder than a lighter one.
All you need to do is attach your bike's rear wheel to the trainer (without having to remove it). The trainer is suitable for both mountain and road bikes with 20" – 29" wheels. The cylinder around which the rear wheel rotates is made of elastogel – a polyurethane compound that reduces noise (by up to 50%) and prevents tube damage (by up to 20%). The material and frame structure provide outstanding stability. The Bike Trainer Elite Qubo Fluid absorbs even the strongest of vibrations. The folding structure allows you to fold the trainer up and store it away when you're not using it.
Technical description:
Bike trainer with high-quality metal frame
Suitable for bikes with 20" – 29" wheels
Elastogel cylinder (50% less noise and 20% less tube damage)
Crono compass system accurately simulates road ride
Hydraulic braking system
Progressive resistance that depends on pedaling intensity 
Compact size
Folding structure
We recommend you use smooth tubes
Compatible hubs / axles: 130x5-135x5 mm with quick release
Weight: 8.5 kg
Bike Trainer Elite Qubo Fluid - Product parameters
Resistance regulation
Resistance in cardio trainers can be regulated by one of two ways - manual and electronic control. Manual regulation is the cheaper option and works on a simple basis. With a regulation knob, the user sets the resistance manually, usually in the range of 1-12 levels.
Manual
Resistance adjusted by a regulation knob. Easy to use.
How to attach the bike
Quick-release
Braking system
Cardio trainers use several types of braking systems.
There are trainers with magnetic, friction, calliper or EMS braking system. The magnetic and EMS systems that work through moving a magnet closer to the flywheel are used most often.
Hydraulic
Resistance via a hydraulic piston, usually regulated manually.
Weight
The total weight of the product.
8.50 kg
Bike Trainer Elite Qubo Fluid - alternatives -
all in stock
Bike Rollers Elite Arion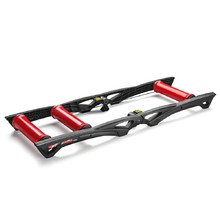 More info
Bike Rollers Elite Quick-Motion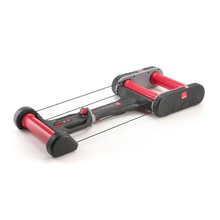 More info
Bike Trainer Elite Turno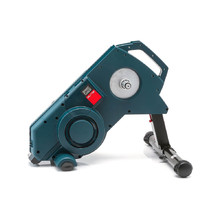 More info
Bike Trainer Elite Qubo Fluid is included in the following categories: