Lifting Bar inSPORTline 180cm/30mm RB -72T
Weightlifting bar with a diameter of 30 mm.
Recommended accessories
Description
Parameters
Alternatives (8)
Lifting Bar inSPORTline 180cm/30mm RB -72T
This weightlifting bar inSPORTline 180 cm / 30 mm RB-72T, trheaded is made of high quality steel and is supplied with safety nuts. The bar length 180 cm and diameter of 30 mm makes it a versatile fitness equipment. The bar inSPORTline 180cm / 30mm RB-72T is thus suitable for strengthening on a bench and for weightlifting. It is compatible with discs with 30 mm bores.
Technical description:
bar made of high quality steel
bar length: 180 cm
bar diameter: 30 mm
weight: 12 kg
one thread length: 30 cm
length of the loading area: 2 x 34 cm
2 safety nuts included
By exercise you strengthen these body parts: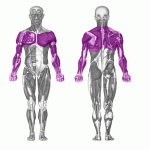 Recommended by Petr Kopriva, the inSPORTline Coach
Regular training promotes weight loss, shapes specific muscle areas and strengthens the cardiovascular system.
Lifting Bar inSPORTline 180cm/30mm RB -72T - Product parameters
Length of the loading
33 cm
How to secure
Threaded sleeve
Lifting Bar inSPORTline 180cm/30mm RB -72T - alternatives -
all in stock
Lifting Bar inSPORTline 180cm/30mm RB -72T is included in the following categories: