Heated Leather Ski and Moto Gloves Glovii GS5
Real leather heated gloves, rechargeable long life battery, comfortable and highly durable, suitable for sports and everyday use.
Recommended accessories
Description
Parameters
Alternatives (8)
Video (1)
Heated Leather Ski and Moto Gloves Glovii GS5
The Heated Leather Ski and Moto Gloves Glovii GS5 will keep you warm even during the coldest days. There are carbon fibers on the entire surface on the gloves, which provide the heating. These fibers not only provide even heat distribution, but also emit infrared rays which help improve blood circulation. They are extremely reliable and have a long service life. The 3 heating modes allow you to adjust to the current weather conditions. The rechargeable lithium battery can last as long as 6 hours. The Heated Leather Ski Gloves Glovii GS5 are made of cowhide leather, which gives them an attractive look, excellent grip, long service life and high durability, comfort and breathability. The inner part is made of the Thinsulate material, which will keep your hands warm even with the heating off. You can use the Velcro strap on the wrist to adjust the size of the gloves. The Heated Leather Ski Gloves Glovii GS5 are suitable for both sports and everyday use.
Technical description:
Heated winter gloves
Even heat distribution
Real leather
3 heating modes
Battery stored in zippered pocket
Easy control
Battery status indicator
Velcro strap on wrist
Heater: carbon fiber, 8W
Battery: 2,100mAh (15.54Wh) Li-Pol

, 

rechargeable

Modes: 33% (low), 66% (medium), 100% (high)
Battery life: 6h (low), 3h (medium), 2h (high)
Outer material: real leather
Inner material: Thinsulate (100% polyester)
Weight: 290g (without battery), 460g (with battery)
Battery and charger included
Size chart: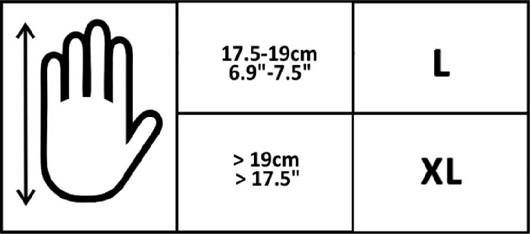 Note: Do not wash heated clothes in a washing machine. It is recommended to only clean the surface with a damp cloth and a small amount of cleaning product. In case more thorough cleaning is necessary, please secure and insulate the power cord. Never wash the product while the battery is connected.
Heated Leather Ski and Moto Gloves Glovii GS5 - Product parameters
Material
Leather, Polyester
Heating
This special type of gloves includes a heating unit that is charged by a lithium battery, keeping your hands warm.
yes
Heating unit
Carbon fibres
Thermal insulation
Gloves with thermal insulation are suitable mainly for cold or winter weather. Insulation is provided via added insulation material that accummulates warmth and prevents its loss.
yes
Velcro wrist strap
A wrist strap will keep your gloves perfectly in place, eliminating any danger of them slipping out of place.
yes
Knucle protectors
Gloves with knuckle protectors provide protection in case of any falls. Knuckle protectors can be placed either on the surface of the glove or integrated inside it. Most often, they are made of durable polyurethane, a highly resistant hardened plastic. Other materials used include kevlar or carbon fibres, a very hard fabric that was especially developed for these types of protectors.
no
Touch screen compatible
Thanks to special material on the fingertips, you can use your touch screen devices even in gloves.
no
Heated Leather Ski and Moto Gloves Glovii GS5 - alternatives -
all in stock
Heated Leather Ski and Moto Gloves Glovii GS5 is included in the following categories: