Maronald Stick
Installation behind the front trucky, adjustable height, easy and fast installation.
We are sorry, but this product is no longer available.
Recommended accessories
Description
Parameters
Alternatives (2)
Video (1)
Maronald Stick
Maronald Stick can bring you a new exciting experience of skateboarding, longboarding or penny-boarding. You will enjoy new ways of using. This stick offers a combination of a spontaneous riding and direction controlling like riding on a scooter.
Children older than 6 years can use it to learn basic skateboard techniques. It can be used by beginners as well. Advanced users will appreciate them while carving or turning sharply. Each user will surely discover certain advantage only for his way of riding or tricks that are impossible on a regular board.
The Maronald Stick is adjustable in three height levels according to user body. It features an universal design that allows you to attach it to any regular skate-, long- or penny board.


Technical parameters:
Fast and easy installation
Installation behind the front trucky
Rubber grips
Adjustable height in three levels: 77-91 cm from the board
Handlebar width: 46 cm
Grip width: 8.5 cm
Suitable for age: 6+
Intended for skate-, long- and penny boards
Package includes: stem, protective panel, set of 4 screws, nuts and washers, assembly keys
Maronald Stick - Product parameters
Handlebar height
77-91 cm
Maronald Stick - alternatives -
all in stock
King Pin + Nut
More info
-38%
Longboard Motor WORKER Wheelero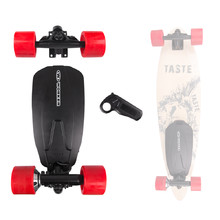 More info
Maronald Stick is included in the following categories: