Massage Belt inSPORTline Absagy
Massages and strengthens abdominal, thigh and gluteal muscles, remote control, Velcro strap.
Recommended accessories
Description
Alternatives (8)
Massage Belt inSPORTline Absagy
The Massage Belt inSPORTline Absagy is a comfortable way to strengthen the abdominal, thigh and gluteal muscles. This device consists of a vibration surface, long Velcro belt, long cable and remote control for maximum comfort. You can use the remote control to choose from a variety of programs, such as turn on/off, massage intensity and 15 minute automatic massage. The remote control is powered by a button battery (CR2032) while the massage belt is powered by a 12V adaptor for 220 – 230V sockets. This massage belt can be used on individual muscles – it not only helps relieve stress, but also strengthens them. All of the above makes the Massage Belt inSPORTline Absagy perfect not only for home and/or work use, but its compact size also makes it suitable for traveling.
Technical description:
Massage accessory that helps relieve stress and strengthen muscles
Primarily intended for strengthening abdominal, thigh and gluteal muscles
Strong Velcro strap
Remote control and long cable for easy handling
Compact size for easy storing and carrying
Massage functions: 15 minute automatic massage, manual program (intensity adjustment)
Vibration surface dimensions: 9 x 12cm
Belt dimensions: 116 x 9cm
Cable length: 280cm
Power supply: 220/230V, CR2032 battery (not included)
Weight: 465g
Intended for home use
Exercised body areas: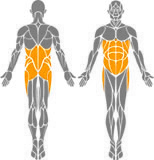 Massage Belt inSPORTline Absagy - alternatives -
all in stock
Massage Belt inSPORTline Absagy is included in the following categories: