Flexit Drink Nutrend 400g
Dietary supplement on the basis of joint nutrition, complex ingredients, helps improve development and nutrition of joints and also protects them. Moreover, it has a positive effect on the quality of hair, skin and nails. It is easy to digest and immediately used by the body.
We are sorry, but this product is no longer available.
Recommended accessories
Description
Alternatives (3)
Flexit Drink Nutrend 400g
The Flexit Drink Nutrend 400g is a drink that provides comprehensive joint care – connective and bone tissues (joints, joint capsules, cartilages, tendons, ligaments, etc.).
This product is intended for:
Nutritional enrichment and replenishment during joint problems
Persons whose joints and connective tissues are at an increased risk of wear and tear (sports activities, etc.)
Persons with reduced mobility and fatigued joints
Nutritional replenishment during the recovery period
Persons with a reduced intake of calcium
Characteristics:
Collagen protein (gelatin hydrolyzate) is a source of a number of amino acids and peptides, which cooperate in the formation of collagen and are absolutely essential for the correct development, nutrition and protection of joint cartilages and the quality of hair, skin and nails. This product contains a 97%, enzymatically cleaved gelatin hydrolyzate with a high biological value. Unlike non-hydrolyzed protein (which needs to hydrolyze in the digestive tract), this gelatin hydrolyzate is highly functional, immediately usable by the body and easy to digest.
Glucosamine is a substance which is part of blood sugar. It improves mobility of joints, affects the synthesis of connective tissues and reduced catabolic processes in joint cartilages. Glucosamine is a precursor of chondroitin.
Chondroitin sulfate is a building block in the formation and renewal of connective tissues. It protects the cartilages from destruction and damage.
Hyaluronic acid is the main component of intercellular mass in the cartilage – a joint fluid which makes the cartilage soft, elastic and smeary. The structure of the hyaluronic acid molecule allows it (even in low concentration) to bind a large number of water molecules, forming a viscous gel which makes connective tissues able to withstand external pressure.
MSM (Methylsulfonylmethane) is an organic sulfur compound which is present in the human body. It participates in the formation of the collagen fiber structure. Due to its anti-oxidation activity, it helps protect the cartilage from damage caused by free radicals. The sulfur contained in MSM helps form basic amino acids – methionine and cysteine.
L-proline is an amino acid essential for the formation of collagen. It speeds up the recovery of damaged cartilages and ligaments.
Vitamins C, B6, and D3 support vital functions, stimulate remedial processes and improve immunity.
Calcium is essential for bone construction.
Magnesium works together with calcium; it is essential for nerve and muscle activity (the so-called "anti-stress mineral").
Recommended dosage:
To protect the existing connective tissue:
Take 10g once a day; in the morning, on an empty stomach
In case the existing connective tissue has been damaged:
Take 20g once a day; in the morning, on an empty stomach
6+-year-old children – 5g once a day
Increased fluid intake is extremely important
Do not exceed the recommended dosage
Use:
Pour an appropriate amount of the powder into a small amount of still water, stir and fill up to the required volume
After ca. 5 minutes the solution clears up and you can see gel-like particles which are formed by hyaluronic acid
After opening store at the temperature not higher than 25°C and use within 2 months
Dilution ratio: 20g in 250ml of water
Nutritional value:
 

100 g

Serving – 20 g

Energy value

1382 kJ/ 325 kcal

277 kJ/65 kcal

Fat

0 g

0 g

   of which saturated fatty acids

0 g

0 g

Carbohydrate

29 g

5,8 g

   of which sugars

0 g

0 g

Fiber

0 g

0 g

Protein

50,4 g

10,1 g

Salt

0 g

0 g

Calcium

600 mg = 75 % *

120 mg = 15 % *

Magnesium

275 mg = 73 % *

55 mg = 15 % *

Vitamin C

500 mg = 625 % *

100 mg = 125 % *

Vitamin B6

25 mg = 1786 % *

5 mg = 357 % *

Vitamin D3

37,5 µg = 750 % *

7,5 µg = 150 % *

Chondroitin sulfate

750 mg

150 mg

Glucosamine sulfate

1500 mg

300 mg

Collagen protein

50000 mg

10000 mg

Methyl sulfonyl methan (MSM)

1500 mg

300 mg

Hyaluronic acid (sodium salt)

100 mg

20 mg

L-Proline

2500 mg

500 mg

Measuring scoop content: 25 g

Dilution ratio: 10 g (20 g) in 250 ml of water
Food supplement. Not a substitute for a varied diet. Not intended for children under 6 years of age. Keep out of reach of children. Store in a dry place at the temperature not higher than 25°C, away from direct sunlight. Do not freeze. The manufacturer is not liable for any damage caused by improper use or storage.
Flexit Drink Nutrend 400g - alternatives -
all in stock
-37%
Nutrend Flexit Gelacoll 360st
More info
-35%
Nutrend Flexit Gelacoll 180 st.
More info
Joint Nutrition Nutrend Flexit Gold – 400g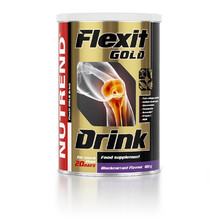 More info
Flexit Drink Nutrend 400g is included in the following categories: