Ultra Lightweight Bag GreenHermit CT-1118 - Blue
Quick folding/unfolding, water and wear resistant material, reinforced seams, suitable for both city and beach use.
Recommended accessories
Description
Parameters
Alternatives (1)
Ultra Lightweight Bag GreenHermit CT-1118 - Blue
The Ultra Lightweight Bag GreenHermit CT-1118 is an extremely simple and practical bag in a sports-city style. The CORDURA material the bag is made of not only makes it extremely solid, waterproof and abrasion resistant, but also suitable for any weather. Moreover, the material is also wear and stain resistant. It quickly and easily folds into a small pouch with a tightening cord and a carabiner that can be attached to a backpack. The bag is large enough to be used as a shopping bag and/or to hold your personal items. The reinforced seams make the Ultra Lightweight Bag GreenHermit CT-1118 even more durable. As the bag can be used repeatedly, it is ecological and environment-friendly. All of the above makes the Ultra Lightweight Bag GreenHermit CT-1118 not only a city bag, but also a perfect beach bag.
Technical description:
Waterproof
Extremely solid
Wear and stain resistant
Lightweight
Sports-city style
Large enough
Folds into pouch with tightening cord
Reinforced seams
Easy and quick folding/unfolding
Environment-friendly – can be used repeatedly
Can be washed in washer
Suitable for traveling, city use, beach use
Zipper closure
Dimensions: 32 x 11 x 32cm
Weight: 53g
Material: Cordura  
Ultra Lightweight Bag GreenHermit CT-1118 - Blue - Product parameters
Weight (g)
The total weight of the product.
53 g
Reflective features
Reflective features exponentially increase the user's visibility. They are suitable especially for winter months that come with mists and early sunset. However, they shouldn't be forgotten even during summer.
Reflective features on clothing items usually take the form of a reflective lettering or stripes that don't clash with regular wear.
no
Material
Nylon
Strong and flexible material made of light and permeable fibres.
Ergonomically shaped back
no
Ultra Lightweight Bag GreenHermit CT-1118 - Blue - alternatives -
all in stock
Ultra Lightweight Bag GreenHermit CT-1111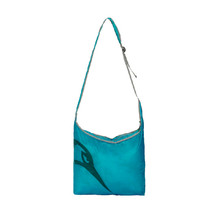 More info
Ultra Lightweight Bag GreenHermit CT-1118 - Blue is included in the following categories: