Glow-in-the-Dark Pennyboard WORKER Lumy 22ʺ
Plastic skateboard with glow-in-the-dark deck and LED wheels.
Recommended accessories
Description
Parameters
Alternatives (8)
Glow-in-the-Dark Pennyboard WORKER Lumy 22ʺ
Glow-in-the-Dark Pennyboard Worker Lumy 22ʺ is an awesome pennyboard highly attractive for many reasons. Its phosphorescent deck can glow in the dark for prolonged time periods (after previous exposure to the daylight), which is noticeable especially during a night ride. The effect is further heightened by wheels with LED diodes, which start to emit light after being rotated due to electromagnetic energy, which functions as a power source, so no batteries are required.
The ribbing on the upper side prevents feet from slipping off the board. A great riding experience is ensured by high-precision ABEC 7 bearings. Due to its compact dimensions and low weight, Glow-in-the-Dark Pennyboard Worker Lumy can be carried in a backpack or under the arm. These pennyboards are suitable especially for fast travelling around the city and school campuses, where you will attract all the attention.
Technical description:
Firm phosphorescent PP deck
LED wheels (light up after rotating)
Anti-slip upper pattern
Board dimensions: 58 x 15 cm
Trucks: 3ʺ, aluminum alloy
Bushings: 85A, yellow
Wheels: 60 x 45 mm
Wheel material: PU, transparent
Wheel hardness: 82A
Bearings: ABEC 7 Chrome, black color
Max rider's weight: 85 kg
Product's weight: 1.85 kg
Glowing deck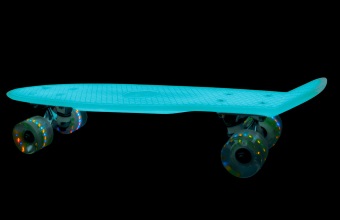 The deck is made of a special phosphorescent material with which you will show off among your friends.
LED wheels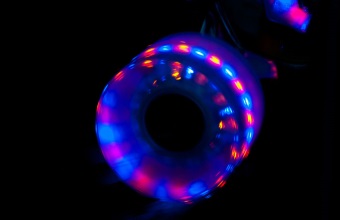 Transparent wheels with inbuilt LED diodes. The electromagnetic energy, which is created by the rotation of wheels, powers the diodes to provide nice effects under the deck.
Strong trucks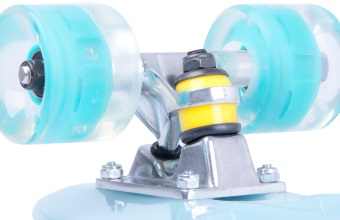 Featuring optimally firm bushings, the trucks are made of a high-quality aluminum material, which guarantees great riding qualities and durability.
ABEC 7 Chrome bearings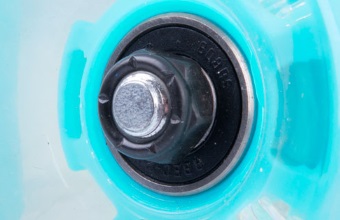 As riding speed and smoothness represent the most important factors during a ride, this pennyboard features industrial highly-precise bearings, which will do both.
Glow-in-the-Dark Pennyboard WORKER Lumy 22ʺ - Product parameters
Board length
The length of the board is basically the length of the entire item. The longer the board, the more space there is. On the other hand, shorter boards are easier to carry around. The length is usually given in inches. 1 inch = 2.54 cm.
22
Special features
Light up features
Glow-in-the-Dark Pennyboard WORKER Lumy 22ʺ - alternatives -
all in stock
Glow-in-the-Dark Pennyboard WORKER Lumy 22ʺ is included in the following categories: