Yoga Set inSPORTline Complete
Set includes stretch band, yoga mat, aerobic ball, yoga block, and yoga roller.
Recommended accessories
Description
Alternatives (1)
Yoga Set inSPORTline Complete
Yoga Set inSPORTline Complete includes equipment for yoga, pilates and power yoga – suitable both for beginners as well as advanced practitioners. The set contains a super comfortable mat of pleasant and easy-to-maintain material, yoga roller and yoga block for perfect stretching of muscles, rubber expander for performing more demanding stretching exercises (the list of exercises is shown on the expander), and aerobic ball, which enables a variety of stretching, body strengthening and balance exercises.
Yoga Set inSPORTline Complete includes:
Comfortable inSPORTline Yogine mat
inSPORTline Evar Big foam roller
inSPORTline Bricky size S yoga block
inSPORTline Morpo Spant rubber expander for more demanding stretching exercises
inSPORTline aerobic ball for strengthening, stretching and balance exercises
Yoga Mat inSPORTline Yogine is made of harmless materials and combines functionality with the support of a standard yoga mat, providing towel-like absorption qualities. The underside has non-slip surface, so it is suitable especially for aerobic and yoga exercises, though its use is pretty versatile. Being delivered with a carry lace, this mat is easy to store & carry.
Technical description:
Non-slip underside for yoga exercises
Great sweat absorption
Carry lace included
Can be washed in washing machine (wash in cold water, dry on air)
Height: 2±0.3 mm
Size: L 183 x W 61 cm
Carry size: diameter approx. 7 cm x width 61 cm
Material: microfiber + PER (Polymer Environmental Resin – environmental friendly)
Weight: 580 g
No phthalates or heavy metals, harmless material
Yoga Roller inSPORTline Evar Big is a longer version of the popular foam roller, suitable especially for yoga and pilates exercises, where it helps to strengthen muscles via body weight training. Besides the strengthening of inner as well as outer muscle layers this balance tool also improves stability. With its simple design and indestructible durability, this yoga roller offers almost unlimited number of exercises. Yoga Roller inSPORTline Evar Big is suitable for men & women of all ages and fitness levels. It is also suitable for children who are interested in games that improve stability. It is also beneficial for seniors and pregnant women, who will be able to perform exercises that would be otherwise difficult without the roller.
Technical description:
Made of harmless material
Improves coordination
Relieves stress, muscle tension and imbalance
Helps to reduce back and joint pain
Strengthens inner muscle layers
Material: EVA
Diameter: 15 cm
Height: 90 cm
Weight: 0.66 kg
Weight limit: none
Elastic Stretch Band inSPORTline Morpo Spant is an essential exercise equipment for all lovers of yoga, power yoga, pilates and similar forms of training. It can be used as a stretching tool for various types of exercises or to make difficult stretch exercises easier. The expander is made of a combination of nylon, spandex and polyester, which guarantees that it retains the shape, length and elasticity even after long-term use. It is divided into 8 sections which vary in resistance level. Moreover, the band offers the chart of 14 simple example exercises over the entire length. All these features make Elastic Stretch Band inSPORTline Morpo Spant popular among yoga, power yoga and pilates enthusiasts.  
Technical description:
Rubber yoga expander
Divided into 8 sections with different resistance
14 exercise illustrations over the entire length
Material: nylon, spandex, polyester
Length: 90 cm
Width: 5 cm
Resistance: 6 kg
Yoga Block inSPORTline Bricky S is a practical equipment for yoga exercise, sometimes known as a yoga brick, which is used especially for the stretching of arms, legs and back and for getting into positions which would not be possible without it. It can be used as a tool for increasing exercise intensity and variability. The yoga block is also suitable for pregnant women, who want to exercise and need an extra support. The block is made of EVA material, which makes it firm and stiff, yet light and smooth on touch. All these features make Yoga Block inSPORTline Bricky popular among yoga lovers.
Technical description:
Yoga brick
Firm, pleasant material
Lightweight and easy to store
Suitable for stretching, improving exercise variability and balance
Material: EVA
Dimensions: 7.5 x 15 x 22.5 cm
Weight: 90g
Aerobic Ball inSPORTline 35cm offers wide range of usage. It is suitable for body strengthening, stretching, balance training, aerobic exercises and gymnastics. Can be used fully or partly inflated, allowing varieties of exercises to involve hard-to-train body parts.
Technical description:
Easy maintenance
Weight capacity: 120kg
Diameter: 35cm
Material: PVC
Recommended by Petr Kopřiva, the inSPORTline coach:
Strengthening your stabilization muscles will help you reduce longterm back pain.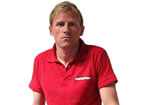 Yoga Set inSPORTline Complete - alternatives -
all in stock
Yoga Set inSPORTline Basic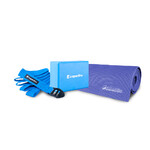 More info
Yoga Set inSPORTline Complete is included in the following categories: