Urban E-Bike Devron 26122 - model 2015
Mid-range e-bike, intended for in-town riding, suspension fork, high speed engine, lights, kickstand, bell, luggage carrier, chain guard.
We are sorry, but this product is no longer available.
Recommended accessories
Description
Parameters
Alternatives (8)
Urban E-Bike Devron 26122 - model 2015
The Urban E-Bike Devron 26122 is a modern e-bike with an aluminum frame and 6" wheels, suitable especially for in-town riding. The rear wheel drive improves torque transmission, preventing the front wheel from slipping in challenging terrain. As a result, the front wheel is easy to maneuver, making it easier for you to deal with any obstacles you might come across in the city (curbs, holes in the road, etc.). The electric engine has 5 assistance modes which you can switch between at the handlebars. You can see the current assistance mode on a control panel with LED diodes, which also shows the battery status.
The battery is an integral part of an e-bike without which it would not work. It is because the lifespan, distance range and the number of charging cycles depend on it. The Urban E-Bike Devron 26122 features the 10Ah Li-Ion (36V) battery with an up to 70km distance range and more than 1,000 charging cycles. However, both numbers are variable as they depend on the riding style, terrain or the rider's weight. As a result, the distance range can differ. Usually, the battery lifespan is 20,000 – 30,000km, 4 – 8 years of use or the already mentioned 1,000 charging cycles. Nowadays, batteries can be recharged very quickly. That is why it takes approximately 4 hours to charge the battery to 100% and 1.5 hours to 50%.
The Urban E-Bike Devron 26122 also has a number of functional and safety features such as battery/dynamo-powered lights, a bell, fenders, a luggage carrier, a kickstand or a chain guard. While the CE weight limit is 120kg, the results of an independent test showed that, when used according to the instruction manual, it might be as much as 150kg. As a result, even the overweight people can use the e-bike. Last but not least, the e-bike features the Tektro caliper brakes and the Tourney TX35 gear shifter with 7 gears.
Upon purchase, you will get an extended 5-year warranty for the frame, and the standard 2-year warranty for all the remaining parts. Within this period, we will replace all the parts free of charge if they have been used in accordance with the instruction manual. You can also use our post-warranty service or purchase a replacement battery.
Our tips you might be interested in:
Having trouble selecting the right bike size and type? Learn more in our

advisor

.
Do you want to test the bike before purchase? You can in our

testing centers

.
Learn more about warranty and post-warranty

bike service in our stores

.
Technical description:
Frame: aluminum
Frame size: 460mm (18.1")
Fork: Suntour suspension
Rims: 26", lightweight, double
Gear shifter: Tourney TX35
Number of gears: 7
Brakes: Tektro V-brake
Handlebars: UNO
Seat: Selle Royal
Stem: UNO
Seatpost: UNO
Lights: front – dynamo-powered, rear – battery-powered
Fenders: plastic
Luggage carrier: aluminum
Kickstand
Bell
Chain guard
Control panel with LED diodes
Wheel size: 26"
Weight limit: 120kg (CE) - results of an independent test showed that, when used according to the instruction manual, it might be as much as 150kg.
Weight: 22kg
Environmentally friendly
No driver's license or registration needed
Battery:
Battery type: 36V Li-Ion, 10Ah
Battery weight: 3kg
Distance range: up to 80kg
Number of charging cycles: up to 1,000
Recharge to full capacity: 3.5 hours
Recharge to 50% capacity: 1.5 hours
Electric engine:
Drive: rear wheel
Engine: 250W
Assistance: 5 modes
Computer functions:
Battery status indicator
Assistance indicator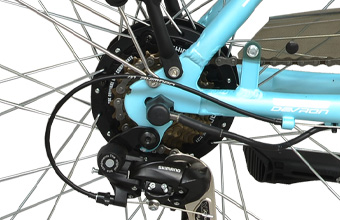 Rear wheel drive
The rear wheel drives are one of the most popular types, mainly due to the excellent price-performance ratio. It is perfect for moderate terrain riding, but also for in-town and road riding. That is why you can see it not only on trekking and mountain bikes, but also on urban bikes.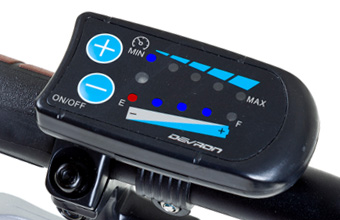 User-friendly
The e-bike has 5 assistance modes which can be switched between using the "+" and "-" buttons at the handlebar control panel. It also features the battery status indicator with 5 diodes. Since the control panel is right next to the handle, it should be easy to control.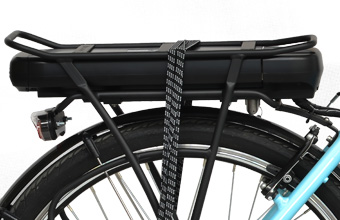 Integrated 10Ah battery
The battery can be found at the rear of the bike, integrated into the decker carrier, enabling you to use it for carrying your basket or backpack. Moreover, the battery is easy to handle which you will appreciate mainly when you need to recharge it.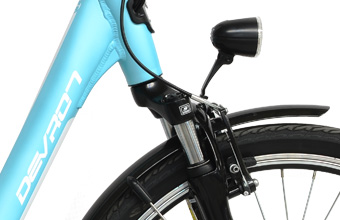 Safety first
As in regular bikes, safety comes first. That is why the urban e-bike features effective caliper brakes and dynamo/battery-powered lights. The e-bike also features a bell, chain guard and fenders all of which are typical of trekking e-bikes.                
Urban E-Bike Devron 26122 - model 2015 - Product parameters
Battery
Li-Ion, 10 Ah, (max. range 80 km)
Number of charging cycles
1000
Rear Brake
Tektro V-brake
Front Brake
Tektro V-brake
Gear shifting
Tourney TX35, Levers
Front Rim
28" light, double-wall
Back rim
28" light double
Back light
Battery-powered
Urban E-Bike Devron 26122 - model 2015 - alternatives -
all in stock
Urban E-Bike Devron 26122 - model 2015 is included in the following categories: