Men's Trail Shoes Mizuno Wave Kazan -
SPECIAL OFFER
XtacticRide technology developed for off-road running, medium cushioning.
We are sorry, but this product is no longer available.
Recommended accessories
Description
Parameters
Alternatives (2)
Men's Trail Shoes Mizuno Wave Kazan
Men's Trail Shoes Mizuno Wave Kazan offer the feeling of lightness and natural movement, accentuating the running experience, especially in the terrain. The concave shape of the Wave plate and special grooves in sole middle part provide improved flexibility and adaptability to uneven ground. Its special "X" pattern ensures better adherence and stability, mainly in soft terrain.
Technical description:
XtacticRide technology designed for off-road running
Concave shape of Wave plate and special grooves in sole middle part
Special "X" pattern for improved adherence and stability in softer terrain
U4iC midsole for shock absorption and weight decrease
Super-light upper material which provides a perfect fit
Suitable for trail and off-road running
Neutral / supination / pronation support
Medium cushioning
Upper layer: super-light, synthetic material
Technologies: Mizuno Wave, Dynamotion Fit, X10, Wet Traction, Premium INSOCK, U4iC, XtaticRide
Sole: Mizuno Wave, X10, U4iC, XtaticRide, Wet Traction
Weight: 280g
Technology description:
Mizuno Wave:
Unique technology which combines two basic features necessary for a functional running shoe – shock absorption and stability. Running overloads the body, thus the right combination of cushioning and stability is needed for decreased risk of injury. The Wave plate ensures force-dispersion for perfect shock absorption. The stability of Wave technology is ensured by a construction difference between the outer and inner part of the shoe, which protects the midsole against wear in the most exposed parts. This technology is used to create super-light, technologically advanced, highly effective running shoes which can fit any runner.
X10
The most durable carbon rubber that allows for longer wear in high impact areas and supplements traction at heel strike.
Premiu INSOCK
High-grade removable insock for premium comfort, cushioning and durability.
Dynamotion Fit
"Shoes that move the way you move." the dynamotion™ fit system uses the latest motion capture and biomechanics technology. Mizuno has developed a design blueprint to engineer shoes that work with your foot throughout the gait cycle.
U4iC
A unique midsole compound that rides and cushions like mizuno's ap+ midsole, but is approximately 30% lighter without any loss of comfort or performance.
Wet Traction
Synthetic leather compound in the rubber sole for improved adherence in all conditions.
Men's Trail Shoes Mizuno Wave Kazan - Product parameters
Men's Trail Shoes Mizuno Wave Kazan - alternatives -
all in stock
Men´s Trail Shoes Mizuno Wave Kazan
More info
Men's Trail Shoes La Sportiva Mutant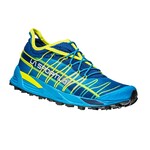 More info
Men's Trail Shoes Mizuno Wave Kazan is included in the following categories: