Yoga Block inSPORTline Bricky S
Thinner model, for stretching of back, arms and legs, makes the training more varied and interesting.
Recommended accessories
Description
Parameters
Alternatives (3)
Yoga Block inSPORTline Bricky S
Yoga Block inSPORTline Bricky S is a practical equipment for yoga exercise, sometimes known as a yoga brick, which is used especially for the stretching of arms, legs and back and for getting into positions which would not be possible without it. It can be used as a tool for increasing exercise intensity and variability. The yoga block is also suitable for pregnant women, who want to exercise and need an extra support. The block is made of EVA material, which makes it firm and stiff, yet light and smooth on touch. All these features make Yoga Block inSPORTline Bricky popular among yoga lovers.
Technical description:
Yoga brick
Firm, pleasant material
Lightweight and easy to store
Suitable for stretching, improving exercise variability and balance
Material: EVA
Dimensions: 7.5x15x22.5cm
Weight: 90g
Yoga Block inSPORTline Bricky S - Product parameters
Dimensions
7.5 x 15 x 22.5 cm
Yoga Block inSPORTline Bricky S - alternatives -
all in stock
-34%
Yoga Block inSPORTline Molty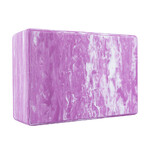 More info
Yoga Block inSPORTline Bricky M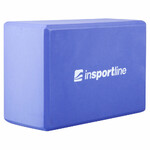 More info
-39%
Foam balance trainer inSPORTline Brik
More info
Yoga Block inSPORTline Bricky S is included in the following categories: