Kinesiology Tape Roll inSPORTline NS-60
Made of hypoallergenic acrylic glue, great adhesion, waterproof and quick-drying material, 1 pc per package.
We are sorry, but this product is no longer available.
Recommended accessories
Description
Parameters
Alternatives (2)
Kinesiology Tape Roll inSPORTline NS-60
Kinesiology Tape Roll inSPORTline NS-60 is a special 5-m tape that can be applied on any part of human body. It's a great solution for everyone suffering from overstrained, stiff or aching joints or muscles. Kinesiology Tape Roll inSPORTline NS-60 is made of highly elastic and functional material. Since polyurethane fiber is easily susceptible to damage, it is wrapped in 100% cotton to provide protection against mechanical impacts. The combination of cotton and elastic Spandex fiber is waterproof, permeabke and quick-drying. With this tape on, you can regularly take a shower or go swimming. Perfect adhesion is ensured by hypoallergenic glue, which dries in 5 seconds. For maximum adhesion, the tape must be applied on clean, completely dry skin.
Kinesiology Tape Roll inSPORTline NS-60 is used to stabilize muscles, relieve joint and muscle pain and reduce swellings. Especially sportsmen will appreciate its positive effects and the relief it provides. Using Kinesiology Tape Roll inSPORTline NS-60 helps to treat pains and positively influences the length of the regeneration period.


Technical description:
Kinesiology tape for the whole body
Unrestricted motion
Elasticity of up to 175%
Great permeability
Waterproof and quick-drying material
Quick-drying hypoallergenic acrylic glue
Great adhesion
Dimensions: 5 x 500 cm
Material: cotton, elastic Spandex fiber
Package includes 1 pc of tape
Beneficial effects:
Improved muscle and joint performance
Swelling and pain reduction
Quicker regeneration
Stabilizes joints and muscles
Provides relief to overstrained muscles
Regulates muscle tension
Prevention against joint and tendon injuries
Improved stability of injured body parts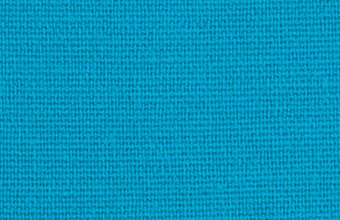 Elastic and Functional Material
The main advantage of the tape is its material, made of cotton and elastic fibres. Thanks to this, the material is very durable, flexible and permeable. Combining these two materials also makes the tape waterproof, meaning you can shower with it or go swimming.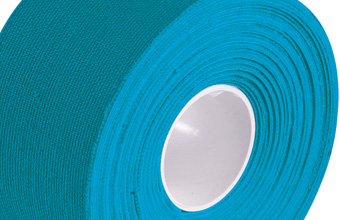 Great Adhesion and Effectivity
For maximum effect, the tapes have to firmly stick to the body. This is possible thanks to hypoallergenic acrylic glue that will dry in five seconds. The tape is 500 cm long and 5 cm wide, allowing you to comfortably tape any type of your body. With all these features combined, you get the perfect tape.  
Recommended by Petr Kopřiva, inSPORTline Fitness Coach
Regular training improves your physical fitness, helps you lose weight and strengthens your cardiovascular system.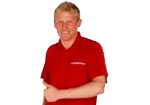 Kinesiology Tape Roll inSPORTline NS-60 - Product parameters
Material
Cotton, Elastic fibres
Kinesiology Tape Roll inSPORTline NS-60 - alternatives -
all in stock
Kinesio Tape Trixline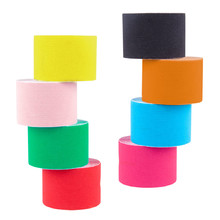 More info
Pre-Cut Kinesiology Elbow Tape inSPORTline NS-30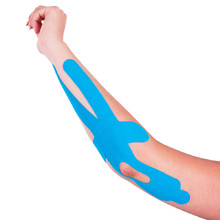 More info
Kinesiology Tape Roll inSPORTline NS-60 is included in the following categories: