How to Choose a Children's Scooter?
Do you want to buy a scooter for your child and are not sure how to choose one? Read this guide to figure it out.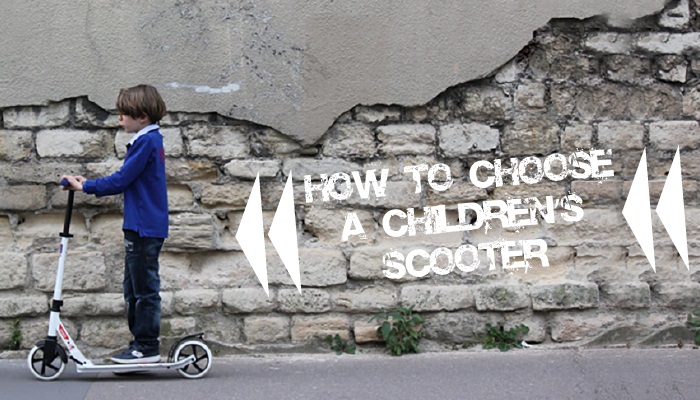 Because scooters are so easy to handle, they are an ideal way to have fun, exercise and travel for children as young as two. The selection of scooters is vast and one can easily get lost. The age restriction most scooters have is not enough information to go on. There are many criteria you need to consider.
Criteria to consider before purchase
What type of scooter to choose?
Before you choose a scooter, you need to think about where your child will ride it. That is closely tied with their age. For the youngest children over 2 years of age, there are tri scooters that help the child keep balance and allow them to familiarize themselves with the movement of a scooter. There are more options for older children, depending on the surface your child will ride on. For riding in urban areas, smaller folding scooters with PVC or PU wheels are more suitable. The wheels cannot be punctured and have a long service life. For recreational riding and more unpredictable terrains, scooters with inflatable wheels and enforced frame are recommended. Your child can even wreak havoc on specialized freestyle scooters.
How to choose the correct handlebar height?
Handlebar height is another important factor to consider when choosing a scooter. If the handlebars are too low, your child has to bend too far and that might have a negative effect on their back and overall growth. If the handlebars are too high, the child is not able to steer the scooter properly. The ideal handlebar height is approximately at the same level as the child's pelvis. Handlebars over 50 cm are suitable for the youngest children. If your child is over 140 cm high, you can pick out one of the adult scooters. It is recommended to choose children's scooters with adjustable handlebars, so that the height of the handlebars can be adjusted as the child grows.
What type of brakes to choose?
There are two basic children's scooter brakes – foot brake and caliper brakes. They differ in design and function. If your child only drives in urban areas, a foot brake will suffice. Caliper brakes are controlled by handlebar levers and they can be found mainly on scooters with inflatable wheels. Both foot and caliper brakes are very easy to maintain. Scooters for the youngest children often don't have brakes at all. It is assumed such small child will not achieve high speed.

What is the recommended weight limit?
The weight limit needed depends on the weight of your child. Don't forget that the weight put on the scooter increases while performing jumps or during impacts while riding in uneven terrain. The weight limit of tri scooters for the youngest children usually ranges between 20 and 25 kg, which is something to keep in mind. Exclusively children's scooters usually have a weight limit of 50 – 60 kg. If your child has exceeded this limit, you need to choose from the scooters suitable for both children and adults. The weight limit of these scooters is somewhere between 100 and 150 kg.
Frame materials
Children's scooters' frames are usually made of either steel or aluminium. Aluminium frames are lightweight and therefore easier for even small children to carry. Steel frames are heavier, but more durable. That way, your child's rough handling of the scooter won't be a problem.