Are you looking for e-scooter and you don't know how to choose the right one? You are definitely not alone. Come and read something about the basic features of electric scooters and how to choose the one that will suit you best!


The electric scooter is a super compact means of transport over shorter distances, especially in urban areas. It is very easy to operate and, thanks to the folding construction, it can be transported practically anywhere. Electric scooters are still a novelty on the market, but they certainly have a future as a compact and ecological means of transport in larger cities, where you can elegantly avoid heavy traffic. They also go well with shorter rides, quick shopping or even to a restaurant.


7 REASONS TO BUY AN ELECTRIC SCOOTER
You will be amazed!
✅  A handy mean of transport
With an electric scooter, you can get everywhere, thus provides a huge advantage, especially in larger cities. Thanks to its simple operation and compact dimensions, it will be useful especially if you often need to cover a shorter distance quickly.
✅  A new kind of fun in the fresh air
Riding an electric scooter is not only a practical choice for moving around the city, but also a great way to spend your free time. You can buy it for yourself and your children and the whole family is guaranteed to enjoy a lot of fun, at home and on holiday.

✅  Light and compact
Most electric scooters are built so that they can be folded quickly and easily. If you no longer want to ride a scooter or your battery runs out, you can fold it down and continue on foot in a moment.
✅  Fresh style and modern technology
The electric scooter is a symbol of the modern way of life. It is produced in many modern designs and so, in addition to the means of transport, it can also become a stylish accessory. Some are even equipped with Bluetooth technology and can be connected to a smartphone so you can plan routes or track mileage via the mobile application. The built-in cruise control allows you to set a constant speed.

✅  Simple control
Everyone can ride an electric scooter. Just turn it on, bounce and go. Thanks to the clear display, easy speed control and efficient braking system, you will have complete control of the device.

✅  Easy to choose
There are not as many types of electric scooters as there are electric bicycles and the orientation between the individual models is not complicated. When selecting, you need to clarify for what purpose you are buying a scooter and what you expect from it. Then all you have to do is choose a model with the appropriate engine power, range and battery capacity, or the type of wheels or maximum speed. Load capacity is also an important factor. You can further enhance the ride by purchasing an additional accessories such as a saddle, travel bag, or backpack or stylish helmet and protectors.
✅  Eco friendly
As the name suggests, electric scooters are powered by batteries. The battery can be easily recharged in a few hours and then set off again for a ride. Its operation is thus ecological and helps to save the environment.

TYPES OF E-SCOOTERS
Where are you going?
⚙️ City e-scooters - Models that are easy to fold and light. This is the best way to withstand the pitfalls of city life. If you need to get to work, school or shopping in busy traffic quickly and efficiently, the urban electric scooter will boldly pave the way for you!

⚙️ Foldable e-scooters - Agile, compact and handy! Electric scooters with a folding frame are easy to navigate in heavy traffic and will quickly take you to your destination. Thanks to the folding frame, they can be easily stored in the car, so it is not a problem to take them with you on holiday.

⚙️ E-scooters with large wheels - Great choice for longer rides and adventure trips! You can go with them on the road, bike paths and lighter terrain. These models combine a rigid frame and large inflatable wheels for adult scooters with electric drive. Thanks to the integrated batteries, you will hardly notice that they are any different.

WHAT TO FOCUS ON WHEN CHOOSING
How will you use the scooter?

If you have decided to buy an electric scooter, it is advisable to first clarify what you actually expect from your new device. In addition to the design, it also depends on other factors, such as load capacity, range, power or maximum speed. The following points should help you orient yourself according to these factors and choose the scooter that will be ideal for you.
First of all, focus on to what purpuse and how often you intend to use the electric scooter. If you need a reliable product that will regularly take you to work or school, it is advisable to choose a more sophisticated model with a higher battery capacity and higher engine power. But if you buy a scooter just for fun and occasional trips, you can choose from a lower price range.
⚡️
FRAME AND LOAD CAPACITY
All electric scooters will carry an adult, but some are more durable than others. With us, you can choose between scooters with a load capacity from 100 to 150 kg.
Most electric scooters have folding frame and are therefore easily portable. Nevertheless it is better to find out in advance how easy it is to fold a scooter and how heavy it is. When choosing, take into account how often you will move the scooter from place to place, or how much time you will have for its folding and unfolding.

Another important factor when choosing an electric scooter is its range on a single charge. Individual models often differ in range, so compare the parameters of individual scooters and choose the model with the range that best meets your expectations. You will of course find the best range for the most expensive models with the highest quality batteries.
Battery capacity goes hand in hand with range. It usually ranges somewhere between 40 minutes and several hours. However, battery life also depends on the terrain, driving style and weight of the rider. You can monitor the battery discharge level on the scooter display while riding. In general, the larger the battery capacity (the more Ah), the better the scooter's range.
With most electric scooters, you accelerate and slow down with levers on the handlebars. The number of speed modes may vary from model to model, but the principle remains the same. We also sell models equipped with cruise control to set and maintain the speed while riding. There are also electric scooters with a special gyroscopic system, thanks to which the electric scooter can be controlled by pushing the handlebars forward or pulling towards the rider. The advantage of this system is that you slow down smoothly and avoid sudden and heavy braking.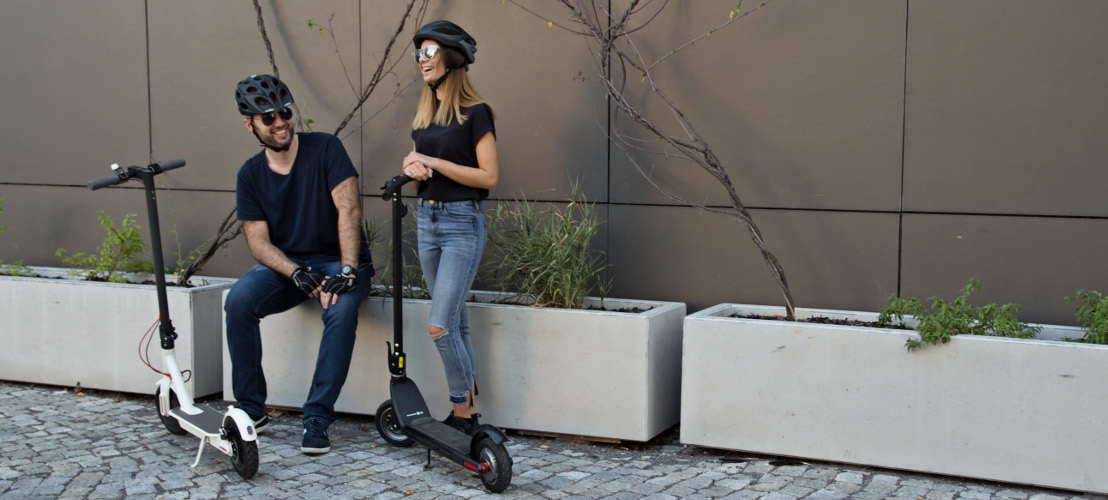 The electric scooter braking system can have several solutions. You will most often encounter disc brakes on both wheels for a safe and immediate breaking. Electric brakes offer a smoother and more comfortable breaking. The classic rear brake is also used (drum or disc), which is controlled by a lever on the handlebars.
With electric scooters, you will usually encounter two types of wheels- inflatable or tubeless. On some models, the wheels can be combined so that the front is inflatable and the rear is tubeless.

Tubeless wheels they are made of solid material, so there is no risk of being punctured on the road. Once they wear out, they need to be replaced.

Inflatable wheels they have the advantage of adapting to the terrain you are rifding on and thus better absorb shocks caused by uneven surfaces. Some models may have a shock absorber to reduce front impact.
You can also choose from several sizes for the wheels. In general, larger wheels are more stable and better overcome uneven terrain.
The motor of the electric scooter is connected to the battery that powers it. The more powerful the engine, the better the electric scooter rides. Motor power is between 250 and 500 W, but sometimes it can be higher. Engines with higher power are suitable for heavier users or for driving uphill. The motors of electric scooters in our offer are either chain or hub.

All of the above information should make it easier for you to choose a new electric scooter while giving you a comprehensive idea of what your dream model should look like. It is also advisable to think about lighting and reflective elements. If you know that you will ride a scooter in dusk or during poor visibility, make sure that you are seen well.

For selected models we also offer special accessories, with which you can make riding an electric scooter even more enjoyable. It is possible to mount a saddle on the scooter or attach a travel bag to the handlebars, in which you put the necessary supplies for the trip. However, always check if scooter is compatible with selected accessories.
WARNING:
You should wear a helmet and protectors.

When using the product, the buyer (consumer) is fully responsible for compliance with legal regulations for the operation of the product on roads and for compliance with the rules of road traffic for selected country.