Motorcycle Helmet W-TEC Nankko
Open helmet with a removable visor and ventilation holes, lightweight shell, FAST LOCK system, ECE R-2205 homologation, plexiglas with increased scratch resistance.
Recommended accessories
Description
Parameters
Alternatives (8)
Motorcycle Helmet W-TEC Nankko
Motorcycle Helmet W-TEC Nankko  is a multifunctional helmet, suitable for riding on scooters, choppers and motorcycles. The helmet impresses with its modern design and quality manufacturing of the individual parts. High safety standard conforming to European ECE R-2205 homologation guarantees maximum safety even during a faster driving. This feature will be used by riders, especially in the hot summer days and during long distances, which places greater demands on the eyes. For maximum comfort, there are ventilation holes in the rear of the helmet, which are part of a sophisticated ventilation system. Thanks to this the rider does not get disturbed by unpleasant sweat and can fully concentrate directly on the ride. Comfort during the ride is a matter of course. That is provided, in the case of the motorcycle helmet W-TEC Nankko, by a robust padding that encloses the exact circumference of the head. The helmet thus seems much lighter on the head, it does not put so much pressure on the head and the weight of the helmet itself is perfectly distributed along the entire shell. The power of the motorcycle helmet W-TEC Nankko  is in the details. Each component has been refined to maximum functionality. The overall impression of the helmet is also provided by its ergonomic shape that has been designed to offer the least resistance when driving and also corresponded to the movement possibilities in the head and neck area. For the most demanding riders the helmet is equipped with a safety fastening FAST LOCK, which is very fast and efficient. This allows the rider to whenever fasten or unfasten the helmet alone and without any help. With motorcycle helmet W-TEC Nankko you will understand that even a stylish design can be functional and precisely manufactured.
Technical description:
quality workmanship of the individual parts
ECE R-2205 homologation (approved for the European market)
 lightweight aerodynamic shell from multi-composite fibre
UV resistant colours
 FAST LOCK safety fastening
cheek pads
plexiglas with increased scratch resistance
ventilation system with two holes in the rear
weight: 1250 g
Adam Peschel recommends:
"W-TEC products will keep you safe", says Adam Peschel, Czech professional stuntrider.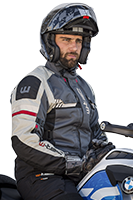 Motorcycle Helmet W-TEC Nankko - Documents to download
Motorcycle Helmet W-TEC Nankko - Product parameters
Shell material
Multi-composite fibres
Motorcycle Helmet W-TEC Nankko - alternatives -
all in stock
Motorcycle Helmet W-TEC Nankko is included in the following categories: