Box trainer Prosmart TLS-BH
Real height and shape of the body, designed for practicing kicks, punches, punches to the waist, correct posture, absorption effects, volume of a base 100 l.
Recommended accessories
Description
Parameters
Alternatives (3)
Box trainer Prosmart TLS-BH
Boxing trainer Prosmart TLS-BH is designed for practicing effective techniques of kicks and punches. While boxing, you are also maintaining correct posture, improving fitness level and relieving stress. With boxing trainer you can train speed of punches, their precision, strength and perseverance. Shape of a real body allows you to control what part of the opponent's body to punch. Trainer's height of 178 cm creates the impression of a real opponent, which is one of the main advantages. Boxing trainer Prosmart TLS-BH is made of durable rubber material, which has excellent absorption properties. The base made of plastic material has a volume of 100 liters and can be filled with water or sand (water is recommended). Thanks to these excellent properties the boxing trainer Prosmart TLS-BH became very popular and sought after.
Technical description:
quality boxing trainer
absorption properties
leads to improving fitness level, relieving stress
possibility to train speed or precision of punches
possibility of punches to the waist
real body shape
body material: durable rubber
base material: PVC
base diameter: 58 cm
base height: 60 cm
base volume: 100 l
body height: 92 cm
total height: 178 cm
weight: 18 kg (when empty)
suitable for practicing kicks, punches or correct posture
intended for commercial and non-commercial use
Box trainer Prosmart TLS-BH - Product parameters
Housing material
resistant rubber
Possibility of performance
no
Box trainer Prosmart TLS-BH - alternatives -
all in stock
Box trainer Prosmart TLS-H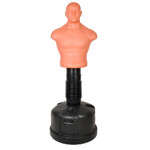 More info
Box Trainer Prosmart TLS-0
More info
Box trainer SB2135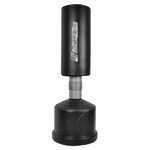 More info
Box trainer Prosmart TLS-BH is included in the following categories: