Balance Trainer inSPORTline Bumy BC250
Dimensions 25.5 x 25.5 x 7 cm, weight 0.4 kg, load capacity 100 kg, material - thermoplastic rubber.
Recommended accessories
Description
Parameters
Alternatives (2)
Balance Trainer inSPORTline Bumy BC250
Massage balance cushion inSPORTline Bumy BC250 is designed for relaxation and massage while sitting in a chair, watching TV or it can serve as a head-rest. It contributes to the development of movement coordination, activation and strengthening of stabilizing muscles stored in the deeper layers, which are otherwise very difficult to strengthen. Balance cushion is especially suited for work where you have to sit for more than 1 hour at a time. It ensures proper spine posture and thus prevents subsequent back problems. Exercise also helps to relieve stress, muscle tension and imbalance.
Technical description:
dimensions: length 25.5 x width 25.5 x height 7 cm
weight: 0.4 kg
maximum load capacity: 100 kg
material: TPR (thermoplastic rubber)
suitable for fitness exercise and relaxation
light massage and stimulation
non-slip flexible surface
use: tool for proper seating, head-rest, exercises
Balance Trainer inSPORTline Bumy BC250 - Product parameters
Material
TPR (thermoplastic rubber)
Balance Trainer inSPORTline Bumy BC250 - alternatives -
all in stock
Balance cushion inSPORTline Bumy BC100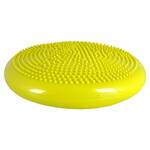 More info
-44%
Seat Pad P10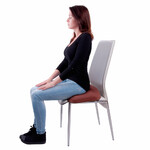 More info
Balance Trainer inSPORTline Bumy BC250 is included in the following categories: