Sport
>
Dětská vozítka
>
Three-Wheel Stroller w/ Tow Bar Coccolle Alegra -
Magenta
(Product code:

323011250

)
Three-Wheel Stroller w/ Tow Bar Coccolle Alegra -
Magenta
Multi-purpose three-wheel stroller, high-quality and solid material, adjustable swivel seat, removable sun shade, enough storage space, extremely safe.
Recommended accessories
Description
Parameters
Alternatives (1)
Three-Wheel Stroller w/ Tow Bar Coccolle Alegra
The Three-Wheel Stroller w/ Tow Bar Coccolle Alegra is a unique multi-purpose vehicle suitable for children aged 10 months and over. The three-wheeler is equipped with a swivel seat, folding footrests and folding handlebars, which provides enough sleeping room for when the child is facing back to the road. The removable sun shade and five-point safety belt, which keeps your child safe, are a nice touch. 
You may also appreciate the storage space at the bottom, which is perfect for holding your shopping bags, your child's bag and/or your little one's favorite toys. When your child is older, all you have to do is remove the roof and the protective frame with supports, turning a stroller into a tricycle. It is entirely up to you whether you will keep the tow bar attached or remove it (when you think your child is ready to ride on their own).
As the steel frame is solid and highly durable, you do not have to worry that it will get damaged. The wheels are of two sizes – 8.5" (the front wheel) and 7" (the rear wheels). Made of EVA foam, the wheels ensure a comfortable ride. Pedals on the front wheel make pedaling as natural as possible. 
Moreover, a simple pull on a lever switches to freewheel and disconnects the front wheel from the pedals, improving the child's safety when pushed by the parent (the child can still pedal but does not control the tricycle). The high-quality materials, high safety and wide range of uses make the Three-Wheel Stroller w/ Tow Bar Coccolle Alegra extremely popular with parents.
Technical description:
Wide range of uses
Swivel seat
Adjustable backrest
Solid EVA wheels
Telescopic tow bar
Metal frame
Reliable braking system (rear wheelsú
Freewheel system that allows you to block the front wheel
2 different leg supports (depending on child's age)
Protective frame with five-point safety belt
Foam-padded seat
Removable retractable roof
Enough storage space
Easy assembly
Dimensions: L 80 x W 51 x H 95 cm
Rear wheelbase: 40 cm
Wheel size: 8.5" (front), 7" (rear)
Weight: 7.8 kg
Weight limit: 28 kg
Recommended age: 10 months and over
Meets European safety standards
Three-Wheel Stroller w/ Tow Bar Coccolle Alegra - Product parameters
Wheel type
Hard bantam wheels are suitable for riding on uneven terrain.
Inflatable rubber wheels are more suitable for adults. The front wheel is sometimes bigger than the rear one. These wheels are better for urban riding and longer more demanding trips.
PVC wheels can be found on stunt and children's scooters. They are cheaper and suitable for parks or even terrain.
EVA
Plastic wheels covered with EVA foam material.
Frame
For both recreational riding and riding through terrain, choose kick scooters with a steel or iron frame and aluminium components set.
To make the scooter lighter, the frame can be also made of aluminium or plastic. Aluminium can be seen mainly in stunt or children's scooters.
Slitina
Brakes
Foot brakes - suitable mainly for children's, stunt (freestyle) and urban kick scooters. The brake is engaged by stepping down on it, causing friction between it's mechanism and the wheel.
V-brakes - suitable for higher weight limits (adults). Easy maintenance and affordable price. The brake is activated by a handlebar lever.
Disc brakes - suitable mainly for sports enthusiasts. These brakes are more costly and harder to maintain.

Hydraulic brakes - instead of a cable they are made of a piston with liquid in it. These brakes offer the highest quality and are the most expansive.
Zadní nášlapné
Weight limit
The kick scooter's maximum weight limit. It is not recommended to exceed this limit.
For the average weight of 80 kg, 100 kg weight limit is optimal, if you want to use the scooter for recreational purposes only. For heavy terrain and frequent use, you may want to choose a steel frame scooter with the weight limit in the range of 120 - 150 kg.
Stunt scooters' weight limit ranges between 50 and 100 kg.
When picking out a children's scooter, decide according to your child's weight but take into account their eventual growth.
25 kg
Minimum recommended user height
70 cm
Wheel size
Wheel size significantly differs depending on the type of kick scooter.
Wheels for children's kick scooters begin at 80 mm.
Freestyle (stunt) kick scooters have wheels between 100 - 120 mm.
Kick scooters for adults really vary in the size of their wheels. Ideal choice depends on your own preferences and experiences. Smaller wheels are easier to control. Larger wheels are more suitable for unever terrain.
210 mm
Weight
The total weight of the product.
7.80 kg
Three-Wheel Stroller w/ Tow Bar Coccolle Alegra - alternatives -
all in stock
Three-Wheel Stroller/Tricycle with Tow Bar Coccolle Urbio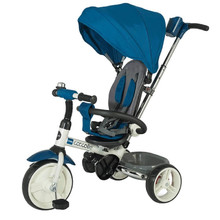 More info
Three-Wheel Stroller w/ Tow Bar Coccolle Alegra is included in the following categories: