Outdoor computer Suunto Elemenum Terra P/ Black rubber -
SPECIAL OFFER
NEW! Sporttester Suunto T6d Black Fusion for the most effective training management
Recommended accessories
Description
Parameters
Alternatives (2)
Outdoor computer Suunto Elemenum Terra P/ Black rubber
Suunto T6d Black Fusion is a modern training laboratory on your wrist. It can effectively monitor, analyze, and optimize your workout based on the information obtained. With the Suunto Training Manager software, Suunto T6d provides training assessment on a scientific basis and a detailed analysis of seven body parameters with an accuracy that can be achieved only in a sports laboratory.
Training computer Suunto T6d is fully equipped with a unique scientific performance parameters, and therefore it is very popular helper of all professional athletes and coaches. It provides an evaluation of cardiovascular training of an athlete and with performance measurement leads him to achieve the optimum condition in the shortest possible time.
The computer is equipped with a comfortable textile chest belt Comfort Dual Belt for heart rate measurement that is comfortable to wear and precise in measuring.
EPOC, the key to success - know-how to optimize the training plan
Suunto T6d introduces the numerical value of training load, EPOC. By measuring the EPOC value, different sports and training classes can be compared, which helps to create an optimal training plan. With Suunto T6d athletes teams, clubs or individuals may assess their level of fitness mutually, define the optimal training load and measure the contribution of each workout. Suunto T6d utilizes the results of physiological research carried by Finnish Research Institute KIHU for Olympic Sports, in cooperation with Firstbeat Technologies. This scientific knowledge enables Suunto T6d to offer users the parameters of each workout, which had previously been measurable only in laboratory tests.
Simple self-analysis for monitoring in real time:
Easy to use PC analysis combines the training data with basic information about the athlete. The analysis calculates seven different physiological parameters to determine that the athlete does not train too hard or too easy either. These parameters, which include EPOC, oxygen consumption and energy consumption can be accurately measured from rest to maximum heart rate for the first time outside the lab. Measurements are based on variations in heart rate, which is obtained from the recorded data of each heartbeat. The possibility of exchange of training information by e-mail or the web opens up new horizons for coaching at a distance or sharing of experience among friends.
Functions and features:
Comparative physiological analysis on PC
Training Effect and EPOC in real time
Altimeter for tracking of exercise in mountains and altitude performance
Speed, distance and step cadence with additional PODs
Optional display layout
Coded digital signal ANT without interference
Chest belt for heart  rate measurement is included
Outdoor computer Suunto Elemenum Terra P/ Black rubber - Documents to download
Outdoor computer Suunto Elemenum Terra P/ Black rubber - Product parameters
Water resistance (real)
There are several ways how to describe water resistance in sports watches. To make it easier for you, we state the REAL value your sports watch will be able to resist. The number of meters given is the real depth up to which you can safely reach with your watch.
Watch water resistance can be divided into three categories:
- 0 metres - almost zero water resistance, the watch will resist only splashing water and rain
- 1 metre - watch can be used when you shower and wash your hands
- 30-100 metres - a watch you can bathe, swim and dive with
100 m
Czech option for interface
no
Weight (g)
The total weight of the product.
97 g
Outdoor computer Suunto Elemenum Terra P/ Black rubber - alternatives -
all in stock
Outdoor computer Suunto Elemenum Terra N/ Black/Red leather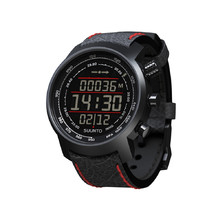 More info
COPY - Outdoor computer Suunto Elemenum Terra N/ Amber rubber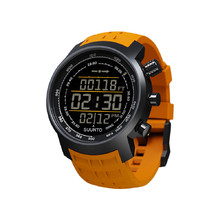 More info
Outdoor computer Suunto Elemenum Terra P/ Black rubber is included in the following categories: