Slackline - inSPORTLine ergo 15 m
SlackLine inSPORTline ergo 15 m - balancing and walking on a strap mounted above ground, loading capacity 200 kg, entertainment and training in one
Description
Parameters
Alternatives (1)
Video (1)
Slackline - inSPORTLine ergo 15 m
SlackLine is a modern and affordable discipline, combining fun with strengthening and coordination training. Slackline inSPORTline ergo 15 m is perfect fun tool for both individuals and groups of people.
It concerns  balancing, walking and jumping on a strap attached between two points, for example, between the trees, poles and similar supporting points. Unlike walking on a rope, the SlackLine strap is not pulled tightly. It can be more or less stretched, and thereby having different characteristics. Slackline inSPORTline ergo 15 m can be fun for its fans, as well as relaxation or training. With easy and quick attaching, for example between two supporting points is this discipline suitable for camping, tents, camps and other events, where it provides active fun for many hours to a broad team.
There are different types of 'lines'. Lines close to the ground on which you can do especially tricks and balancing, highlines with protection stretched several dozen metres above the ground, lines above the water, or extremely long lines.
Technical description:
high quality and durable materials
15 m strap with a steel fastening ratchet for easy control of tension and length
suitable for exterior and interior use
designed for SlackLine low above the ground - max height of attachement point: 1 m
material: low stretch polyester
strap width: 50 mm
maximum distance of attachement points: 15 m
maximum load: 200 kg
Important notice:
Choose only anchor points that can withstand extreme load in the bend!!!
Slack Line is a dangerous activity with a realistic possibility of injury. Read the manual and make sure it is observed. In case of doubt, contact your dealer. The manufacturer does not bear the legal responsibility for injuries that occur in connection with using the product in improper conditions.
Before using the product, it is necessary:
to become familiar with the possibilities and limitations of this product
to know the appropriate ways and methods of protection and usage of the product (or undertake specialized training)
to know and accept the risks associated with the activity being undertaken
Slackline - inSPORTLine ergo 15 m - Product parameters
Weight limit (kg)
By observing the weight limit of the product, you significantly increase its service life and prevent it from wearing down prematurely. It is not recommended to exceed this limit.
200 kg
Slackline - inSPORTLine ergo 15 m - alternatives -
all in stock
Slackline - inSPORTLine ergo 25 m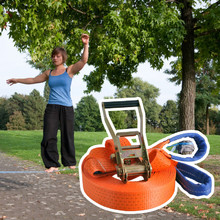 More info
Slackline - inSPORTLine ergo 15 m is included in the following categories: