Rocking Horse/Balance Bike 4-in-1 inSPORTline Tumbelino
Multi-purpose horse that your kid can rock and ride on! Also great are the motion-activated light-up music box.
Recommended accessories
Description
Parameters
Alternatives (4)
Rocking Horse/Balance Bike 4-in-1 inSPORTline Tumbelino
If this pastel-colored rocking unicorn with motion-activated light-up music teddy bear doesn't make your child happy, then nothing will! Suitable for children between the ages of 1 to 6, the Rocking Horse/Balance Bike 4-in-1 inSPORTline Tumbelino is a unique toy that's a rocking chair and a balance bike in one, and even features a tow bar for anxious parents.
The music box in the form of a teddy bear shines and plays nicely to the beat - you can even adjust the volume on it. The ergonomic seat features seatbelts, keeping your child safe during use. During rocking, the wheels are secured in the curved base. If your child wants to walk the horse, they can do so. There's an eyelet on the horse's neck through which you can thread a string or attach a carabiner. You can even find one such string in the package. The Rocking Horse/Balance Bike 4-in-1 inSPORTline Tumbelino is the perfect toy, whether you're at home or decide to go for a walk.
Technical description:
Rocking horse with wheels that can be used as a balance bike
Seat with seatbelts
Tow bar for parents
Footrest
Lights - up music box shaped like a teddy bear
Eyelet for attaching a string or a carabiner
Cute design
Material: plastic (HDPE)
Wheel material: plastic (HDPE)
Dimensions: H 46 x W 40 x L 78 cm
Weight: 3.1 kg
Weight limit: 30 kg
Recommended age: 1 – 6
Batteries: 2x AAA (not included)
Rocking Horse/Balance Bike 4-in-1 inSPORTline Tumbelino - Product parameters
Brake
Brake - yes or no?
The first thing to consider is the age of the child you are buying the training bike for. For small children (1,5 – 3 years) the brake is not as necessary because children of this age automatically use their feet for braking. Using a brake might also be a bit difficult for them, because they don't yet have the necessary strength.
On the other hand, children over 3 years should learn how to use a brake because they have more strength and can develop a higher speed.
no
Weight
The training bike should be as light as possible so that your child doesn't struggle. This is also prefereable for parents, because more often than not, it is them who have to carry it around.

3.10 kg
Weight limit (kg)
By observing the weight limit of the product, you significantly increase its service life and prevent it from wearing down prematurely. It is not recommended to exceed this limit.
30 kg
Frame
There are several frame types on the market, mainly metal, plastic or wooden. The different types of material have different qualities and advantages.
Plastic
Wheel type
You can choose from inflatable (an inner tube and a tire), plastic or bantam wheels.
The advantage of bantam or plastic wheels lies mainly in their durability. There is no need to inflate the wheel, therefore there is no risk of puncturing the tire. However, the riding qualities of these wheels slightly differ - these types of wheels don't cushion impacts as much.
Inflatable wheels better absorb impacts, making the ride more comfortable, even for the smallest children. Hard bantam wheels are suitable for riding on uneven and hard terrain, while inflatable wheels are better for parks, urban areas and more even surfaces.
Training bikes with plastic wheels are suitable mainly for interior.
Plastic
Rocking Horse/Balance Bike 4-in-1 inSPORTline Tumbelino - alternatives -
all in stock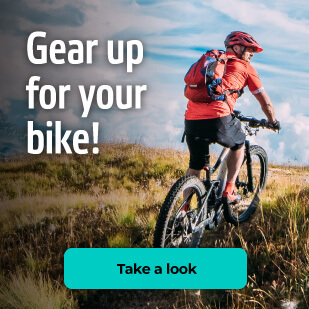 Rocking Horse/Balance Bike 4-in-1 inSPORTline Tumbelino is included in the following categories: