Puzzle Floor Mat inSPORTline Simple Gray
Outstanding floor protection! Durable PVC with a non-slip pattern is easy to maintain, and the puzzle construction allows you to adjust the shape and size of the mat!
Recommended accessories
Description
Parameters
Alternatives (2)
Puzzle Floor Mat inSPORTline Simple Gray
Made of durable PVC, the Puzzle Floor Mat inSPORTline Simple is the main part of the interlocking tile system, whose shape and size you can adjust to your liking. The individual pieces fit into one another and are designed to be used under exercise machines or other heavy, irregularly shaped machines. However, they will also come in handy during dumbbell or weight plate exercises.
This square-shaped part (65.3 x 65.3 cm) fits together with the remaining parts. When you put your mat together, add the ramp and corner pieces to put the finishing touches to it! All the parts come in four different colors, so it's entirely up to you what color your mat is going to be – whether you want your mat to be of one color or you prefer an alternating pattern and want it to look like a chessboard!
The tiles are made in the Czech Republic using modern and energy-saving presses. Vinyl is highly resistant to abrasion and chemicals, making it ideal for use under the heaviest of machines. Even though the main purpose of the Puzzle Floor Mat inSPORTline Simple is floor protection, it also significantly reduces noise. Moreover, it's easy to maintain and – thanks to its light weight – carry.
Non-slip pattern
The special surface texture makes the mat non-slip (R10 rating with a slip angle of 10 to 19 degrees), so you won't have to worry about your machine sliding or you slipping during the workout. It provides secure footing, which is extremely important!
Beveled edges
The ramp and corner pieces have beveled edges, allowing you to smoothly roll your exercise machine or heavy workout equipment onto the mat. Also, you won't trip over the edge. 
Technical description:
Puzzle system that allows you to create a tailor-made mat
Beveled edges for easy transfer of workout equipment onto the mat
Highly abrasion resistant
Non-slip surface
Easy to use
You can alternate the colors of individual pieces
To be used with corner and ramp pieces inSPORTline Simple
Single piece dimensions: 653 x 653 mm
Thickness: 4 mm
Number of tiles per 1 m2: 2.5
Material: 100% PVC (vinyl)
Slip resistance: R10
Compressive strength: 520 kg/cm2
Single piece weight: 2.3 kg
Puzzle Floor Mat inSPORTline Simple Gray - Product parameters
Puzzle Floor Mat inSPORTline Simple Gray - alternatives -
all in stock
Puzzle Floor Mat inSPORTline Simple Blue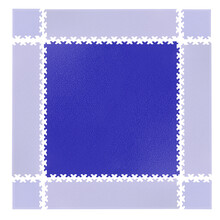 More info
Puzzle Floor Mat inSPORTline Simple Red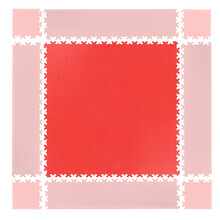 More info
Puzzle Floor Mat inSPORTline Simple Gray is included in the following categories: