Massage Rings inSPORTline Targin
Small helpers that you can carry around in your pocket. Suitable for massaging fingers and toes. Improves blood circulation in fingers and toes, knuckle massage, reduces swelling and relieves pain.
Recommended accessories
Description
Alternatives (8)
Massage Rings inSPORTline Targin
The Massage Rings inSPORTline Targin are an indispensable accessory. They are so small and easy-to-store that you can take them anywhere with you! These rings are widely used in Su Jok therapy, which is a variation of acupressure that uses specific points on hands and feet to treat ailments. By stimulating acupressure points, the rings can help activate brain activity, lymph nodes, improve your concentration and, when used regularly, even strengthen the immune system. Yes, all that can be achieved with these little miracle workers!
And they could not be easier to use – all you have to do is place the rings on your fingers/toes and move them up and down. Not only does this action improve blood circulation in your fingers/toes and massage your knuckles, but it also helps reduce swelling, relieve pain and finger numbness. There are two kinds of rings included in the set – gold and silver ones. The gold rings are firmer and are used for a more intense massage and faster activation of acupressure points. The silver ones, on the other hand, are less firm and therefore used for a gentle massage and gradual activation of acupressure points.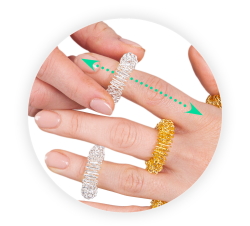 How to use
Place the rings on your fingers/toes and move them up and down. Massage until the finger is pink and heated – that's a sign that the finger is perfused and acupressure points are activated. If you've never used the rings before, we recommend you start with the silver ones for a gentle massage. When you've been using the silver rings for a week, you can start using the gold ones. You can use the rings every day and how many times you want. However, try to massage each finger for 2 minutes and wait at least 10 minutes before you massage it again. 
Warning: Do not leave the rings in one spot for too long. Do not use on injured skin!

Technical description:
Comfortable finger/toe/knuckle massage
Effects:

Helps reduce swelling, relieve pain and finger numbness
Helps activate brain activity through acupressure points
Helps activate lymph nodes

Easy to store
Can be used on fingers as well as toes
Use: approx. 2 minutes multiples times a day
Weight: approx. 3 g (one ring)
Diameter: approx. 2.5 cm
Material: iron (spring)
Number of rings in set: 5
It is not recommended to wear the rings all day
Massage Rings inSPORTline Targin - alternatives -
all in stock
Massage Rings inSPORTline Targin is included in the following categories: