Plyometric Box inSPORTline 3-High
Versatile accessory for improving your fitness, dynamic strength and explosiveness! Wooden construction has a weight limit of up to 250 kg and is lined with foam to protect your joints.
Recommended accessories
Description
Parameters
Alternatives (8)
Plyometric Box inSPORTline 3-High
The Plyometric Box inSPORTline 3-High is a simple but effective way to improve your fitness and coordination and strengthen your core muscles! Each side of the box has a different length, offering a variety of exercise options (depending on how intense you want your workout to be).
Plyometric boxes are used for exercises (e.g. squat jumps, lunge jumps, tuck jumps, tuck squats, plyo push-ups, etc.) in which muscles exert maximum force in short intervals of time, with the goal of improving explosiveness and dynamic strength. The soft and durable EVA padding not only protects your joints by absorbing impact, but is also anti-slip, preventing you from slipping during the workout (even an intense one).
Technical description:
Versatile accessory used for plyometrics (jump training)
Solid wooden construction with foam padding
Ideal for improving dynamic strength and explosiveness
Perfect for core and bodyweight workout
Adjustable height (3 positions) thanks to sides of different lengths
Anti-slip surface
Material: wood, PVC/EVA
Dimensions: 76 x 61 x 51 cm
Weight: 20 kg
Weight limit: 250 kg
Recommended by Petr Kopřiva, the inSPORTline coach:
Strengthening your stabilization muscles will help you reduce longterm back pain.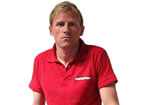 Plyometric Box inSPORTline 3-High - Product parameters
Plyometric Box inSPORTline 3-High - alternatives -
all in stock
Plyometric Box inSPORTline 3-High is included in the following categories: