Flip-Up Motorcycle Helmet W-TEC NK-839 -
SPECIAL OFFER
Suitable for road motorcycles, lockable sun visor, easy flip-up, adjustable ventilation, antiallergenic padding.
Recommended accessories
Description
Parameters
Alternatives (8)
Flip-Up Motorcycle Helmet W-TEC NK-839
The Flip-Up Motorcycle Helmet W-TEC NK-839 is a high quality, flip-up helmet suitable especially for road motorcycles. The high quality individual parts, attractive design and high safety standard (ECE-R 22.05 certification) are the main features of this helmet. Moreover, the Flip-Up Motorcycle Helmet W-TEC NK-839 also features a pull-out sun visor which provides protection from the sun. Apart from closable air vents on the chin bar, you may also appreciate the removable and washable, sturdy but comfortable, antiallergenic inner padding. The attractive and functional design, high quality and high safety standard make the Flip-Up Motorcycle Helmet W-TEC NK-839 a popular motorcycle accessory.
Technical description:
High quality individual parts
ECE R-2205 certification (European safety standard)
DOT certification
SNELL 2000 certification
Lockable, pull-out sun visor
Aerodynamic shell of multi-composite fiber
Removable and washable, antiallergenic inner padding
Mechanism for quick and easy visor replacement
UV paint
Anti-scratch visor
Ventilation technology: DUAL AC – front air inlets (top and bottom) and rear air outlet, adjustable
Safety buckle: FAST LOCK
Weight: 1,600g (feels light and natural on head)
Suitable especially for road motorcycles
W-TEC motorcycle gear is tested by Adam Peschel
"Stuntriding sometimes really hurts. But W-TEC gear makes me feel safer going in", says Adam Peschel, Czech professional stuntrider.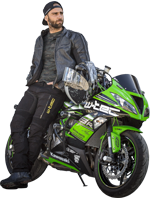 Flip-Up Motorcycle Helmet W-TEC NK-839 - Documents to download
Flip-Up Motorcycle Helmet W-TEC NK-839 - Product parameters
Shell material
Multi-composite fibres
Flip-Up Motorcycle Helmet W-TEC NK-839 - alternatives -
all in stock
Flip-Up Motorcycle Helmet W-TEC NK-839 is included in the following categories: