Nutrend Celluherb caps
Complex of key ingredients for the maintenance, nutrition, protection and regeneration of strained joints.
We are sorry, but this product is no longer available.
Recommended accessories
Description
Alternatives (1)
Nutrend Celluherb caps
ENDURO FLEXIT is a special joint nutrition with a complex of key ingredients for protection, regeneration and nutrition of connective tissues and bones. It contains all the necessary elements that must be included in a good joint nutrition, these include glucosamine sulfate, chondroitin sulfate, MSM (methylsulfonylmethan.) and Aloe Vera with anti-inflammatory effects.
ENDURO FLEXIT is designed to complement and enrich the nutrition of bone and connective tissues for people at risk for joint wear during sports and with joint problems.
It is intended for:
Supplementation and enrichement of the connective tissue and bone nutrition - preventive action
People who have joint and connective tissues at increased risk of wear and exertion (during sports, work, etc.)
Completion of nutrition in traumatic conditions and in states where it is necessary to accelerate the healing of damaged tissues
Characteristics of active ingredients:
Glucosamine sulfate:
Is a natural body substance that the body forms from blood sugar,
Is important for maintaining proper joint movement - plays a crucial role in the synthesis of connective tissues,
Reduces catabolic processes in articular cartilages,
Strained body needs it in a higher amount,
Helps to keep joints in good condition and stimulate redevelopment of articular cartilage,
Participates in the daily renewal of connective tissue around the joints, including tendons and ligaments,
Improves joint mobility and flexibility,
Is a precursor of chondroitin,
Can also speed up joint capsules recovery after sprain (dislocation).
Chondroitin sulfate:
Is the basic building stone for the construction and restoration of connective tissues,
Its sufficiency protects against cartilage destruction and damage,
Scientific studies have shown that chondroitin sulfate is a natural alternative health supplement during arthritis,
Is a shock absorber during movement,
Is an important part of the intercellular matter, cartilage, binds water,
Is important to ensure flexibility and strength (resistance to stroke), not only cartilage but also the joint capsule and connective tissues,
The EULAR Commission (European League Against Rheumatism) recommends it as effectively acting substance.
MSM (methylsulfonylmethane):
Organic sulfur compound, which is commonly present in the human body,
Participates in formation of collagen tissue structure - supports to build collagen into the soft lining of joints,
Due to its antioxidative activity helps to prevent cartilage damage caused by free radicals,
Sulfur in MSM helps to form the essential amino acids methionine and cysteine,
Has a positive effect on teeth, nails and hair.
Aloe Vera:
Bioactive Aloe Vera powder is made by special technology CRYO-DRY. Thanks to this process there were retained all the beneficial and anti-inflammatory effects of fresh Aloe Vera.
Recommended dosage:
3 capsules per day, preferably in the morning on an empty stomach. Do not exceed recommended dosage.
Usage:
After opening store at a temperature below 25 °C and use within 3 months.
Dietary supplement. It does not replace a varied diet. Not intended for children, pregnant and nursing women. Keep out of reach of children. Store in a dry place below 25 ° C, away from direct sunlight. Protect from freeze. The manufacturer is not liable for damages caused by improper usage or storage.
Nutrend Celluherb caps - alternatives -
all in stock
Drink Nutrend Carnitin 750 ml (no coffeine)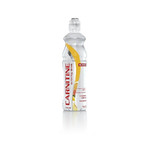 More info
Nutrend Celluherb caps is included in the following categories: