T-MEAL FRUIT Nutrend
Do you want to lose weight and are looking for a suitable replacement of meals during the day? You do not have time for traditional food? T-MEAL FRUITY is a suitable solution.
We are sorry, but this product is no longer available.
Recommended accessories
Description
Alternatives (1)
T-MEAL FRUIT Nutrend
T-MEAL FRUITY is instant cocktail designated as a quality balanced partial substitute for food with pieces of fruit or chocolate. It is suitable as a snack or small lunch when you do not have time for traditional food. It can be eaten as a last meal before physical activity (about 2 hours before the start). It is also suitable as a first meal after a workout for carbohydrates replenishment and to evoke feeling of fullness.
It supplies a balanced amount of protein, carbohydrates, but also increased amount of high-quality fiber (4.3 g in a dose), which fills you up, but does not burden! Not only it has a delicious taste, but it also has a functional composition, which will help you win the fight with redundant kilos. It includes the addition of entirely new functional materials such as hi-maize®, Fabenol®, pinnothin™, which brings many benefits.
It is designed to:
promote weight reduction. Situation where there is no access to normal diet (convenient solution of optimally balanced diet in the office, on the road in a hurry, etc.).
Recommended dosage:
Mix 40 g in 200-250 ml of water or milk, 2 times a day with respect to your diet. Do not exceed recommended dosage.
Usage:
Measure the recommended dosage by the enclosed measuring cup (1 cup = 20 grams) and mix well with water or milk, when mixing in a shaker do not use sieve - holds bits. Dilution ratio is 40 g (about 2 scoops) in 200-250 ml of water. The container should be closed properly after use to prevent contamination. Once opened, store at 25°C and use within 2 months.
It does not replace a varied diet. Not intended for children, pregnant and lactating women. Keep out of reach of children! Store in a dry place below 25°C away from direct sunlight. Protect from freeze. The manufacturer is not liable for any damages caused by improper usage or storage.
Used ingredients:
CARNIPURE - brand of high quality L-Carnitine. A substance that is essential for effective fat utilization and burning. The consumption of L-Carnitine is growing with regular aerobic workout and it therefore needs to be supplied externally! It is effective part of most products of THERMOBOOSTER series.
What is Carnipure™?
Carnipure™ is a trademark of L-Carnitine manufactured by Swiss company Lonza. Carnipure-for-you.com
Fabenol® - extract from the seeds of beans (Phaseolus vulgaris), which naturally inhibits the absorption of complex oligosaccharides (starches) in the body. Thanks to him, most of the taken complex carbohydrates are not absorbed in the digestive tract, but are used as a nutrition for beneficial bacteria in the colon.
Hi-maize® - source of quality fiber and resistant starch, which positively affects the environment in the colon. It also lowers the glycemic index and reduces the storage of unused carbs into fat.
PinnoThin™ - natural substance that helps to reduce appetite and prolongs the sense of fullness.
T-MEAL FRUIT Nutrend - alternatives -
all in stock
Drink Nutrend Carnitin 750 ml (no coffeine)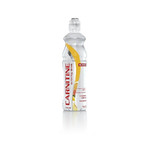 More info
T-MEAL FRUIT Nutrend is included in the following categories: