Energy Bracelet inSPORTline Carmanor
Energy bracelet of obsidian, brass decorative elements, tightening cord, protective energy, promotes self-confidence, helps you get rid of negative elements.
Recommended accessories
Description
Alternatives (2)
Energy Bracelet inSPORTline Carmanor
The Energy Bracelet inSPORTline Carmanor is a modern accessory of snowflake obsidian. This mysterious volcanic glass has long been considered to be the source of purification and self-awareness. It contains energy which helps a person deal with negative emotions and mental stress. It is the crystalized quartz inside the black obsidian that gives the beads their unique texture.
Obsidian is considered to be a mighty, protective stone, which helps you deal with the dark side of your personality. Instead of suppressing the negative aspects of your mind, obsidian's energy is aimed at highlighting the positive aspects and removing distracting elements. It is associated with the deepest part of your personality, helping you free yourself from the hold of outside forces. It helps you live in the present and not leave things for the last minute.
The combination of marble obsidian and polished brass gives the bracelet an interesting look.The beads are threaded on a durable elastic cordwhich you can tighten. There a small brass bead on both ends of the cord. The Energy Bracelet inSPORTline Carmanor's unique, modern design goes with all types of clothes. The bracelet's protective energy will guide you through your life.
Technical description:
Energy bracelet for everyday use
High-quality natural materials
Protective bracelet – promotes self-confidence, truth and honesty
Suppresses negative feelings
Helps remove distracting elements from your mind
Adjustable textile cord
Decorative brass beads
Stylish design
Material: snowflake obsidian, brass (free of lead and nickel)
Bead diameter: ca. 8mm
Bracelet length: 19cm, 21cm
Weight: ca. 15g
Comes in gift box
Energy Bracelet inSPORTline Carmanor - alternatives -
all in stock
Energy Bracelet inSPORTline Fraiva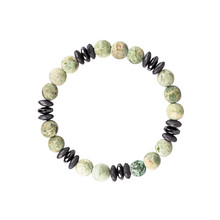 More info
Energy Bracelet inSPORTline Ikaris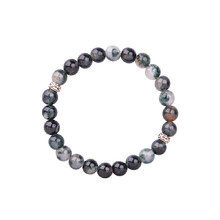 More info
Energy Bracelet inSPORTline Carmanor is included in the following categories: