Energy Bracelet inSPORTline Ikaris
Energy bracelet of agate, harmony of mind and body, helps you feel self-confident and stable, decorative metal beads, delicate colors.
Recommended accessories
Description
Alternatives (2)
Energy Bracelet inSPORTline Ikaris
The Energy Bracelet inSPORTline Ikaris brings agate's harmonious energy into your everyday life. Known for their transparent and shiny appearance, agate beads look like they are made of glass. Agate's distinguishing mark is its beautiful concentric stripes. Therefore, every bead's texture is different, making each bracelet unique. Known for its balanced energy, agate is mostly used for inducing peace and balance.
Agate radiates power, helping to establish a balance between all aspects of human personality – physical, mental and emotional. Therefore, it is suitable for those looking to restore inner balance. If you are feeling unbalanced and feel like parts of your life are out of control, agate's soothing, grounding energy will help you get your life under control. It will give you self-confidence, help you deal with negative emotions and allow you to focus on the good things in life. 
The light, multi-colored agates are separated at the center by two metal beads, giving the bracelet an elegant look. The beads are threaded on a durable elastic cord which will not give way. The Energy Bracelet inSPORTline Ikaris is an unobtrusive bracelet which connects you with nature, providing you with soothing energy.
Technical description:
Energy bracelet for everyday use
High-quality natural materials
Promotes inner balance, self-confidence, stability
Makes you feel secure and helps you restore order in your life
Durable elastic cord
2 decorative brass beads
Simple, elegant design
Material: agate, metal (free of lead and nickel)
Bead diameter: ca. 8mm
Bracelet length: 19cm, 21cm
Weight: 18g
Comes in gift box
Note: illustration photo; color of stones might be different
Energy Bracelet inSPORTline Ikaris - alternatives -
all in stock
Energy Bracelet inSPORTline Fraiva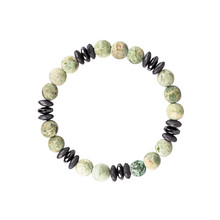 More info
Energy Bracelet inSPORTline Carmanor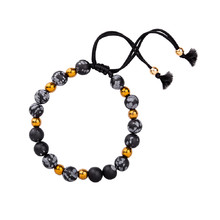 More info
Energy Bracelet inSPORTline Ikaris is included in the following categories: