Children's Barbie Triscooter with a Guide Bar
Triscooter with a detachable guide bar, light aluminium frame, basket, body straps.
Recommended accessories
Description
Parameters
Alternatives (8)
Children's Barbie Triscooter with a Guide Bar
Children's Barbie Triscooter with a Guide Bar is made of light aluminium material. Its advantages include low-profile plastic wheels with maintenance-free freewheel on the front wheel (you can push the bike without the pedals moving) and non-slip plastic pedals. The adjustable and detachable guide bar for parents will allow you to take control of the triscooter, ensuring the safety of your child. The revolving adjustable handlebars and adjustable plastic seat are also worth a mention. Children's Barbie Triscooter with a Guide Bar helps to improve children's motor movements, as well as arms and legs coordination.
Technical description:
Lightweight aluminium scooter
Adjustable and detachable guide bar
Rubber grips
Low centre of gravity for better safety
Comfortable seat
Plastic wheels
Basket for toys
Seat straps
Minimum recommended user height: 80 cm
Suitable for children over 1.5 years of age
Children's Barbie Triscooter with a Guide Bar - Product parameters
Brake
Brake - yes or no?
The first thing to consider is the age of the child you are buying the training bike for. For small children (1,5 – 3 years) the brake is not as necessary because children of this age automatically use their feet for braking. Using a brake might also be a bit difficult for them, because they don't yet have the necessary strength.
On the other hand, children over 3 years should learn how to use a brake because they have more strength and can develop a higher speed.
no
Frame
There are several frame types on the market, mainly metal, plastic or wooden. The different types of material have different qualities and advantages.
Metal
Minimum recommended user height
80 cm
Wheel type
You can choose from inflatable (an inner tube and a tire), plastic or bantam wheels.
The advantage of bantam or plastic wheels lies mainly in their durability. There is no need to inflate the wheel, therefore there is no risk of puncturing the tire. However, the riding qualities of these wheels slightly differ - these types of wheels don't cushion impacts as much.
Inflatable wheels better absorb impacts, making the ride more comfortable, even for the smallest children. Hard bantam wheels are suitable for riding on uneven and hard terrain, while inflatable wheels are better for parks, urban areas and more even surfaces.
Training bikes with plastic wheels are suitable mainly for interior.
Plastic
Children's Barbie Triscooter with a Guide Bar - alternatives -
all in stock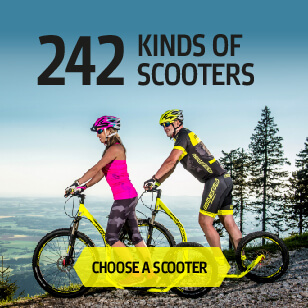 Children's Barbie Triscooter with a Guide Bar is included in the following categories: