Bracelet Trion: Z Active
Active from Trion - a powerful source of negative ions Stayer in combination with high-quality magnets of ANSPO patented technology, silicon design.
Recommended accessories
Description
Alternatives (2)
Bracelet Trion: Z Active
Bracelet Trion: Z Active has been specially developed of silicone materials for water sports and extreme conditions. The bracelet combines the effects of negative ions with the effect of magnets. Great design will satisfy the demanding requirements of younger and older users.
TRION: Z Active can not be used by patients with pacemakers and pregnant women.
Technical description:
Increases blood oxygenation level
Reduces fatigue and speeds up regeneration
Balances blood pressure
Effective against chronic neck pain
Reduces joint and muscle pain
Has a positive effect against depression, fatigue and stress
Helps with menstrual pain and toothache
Size: S-17cm M-19 cm, L-21cm
Bracelet Trion: Z Active - alternatives -
all in stock
Bracelet Trion:Z Dual Lite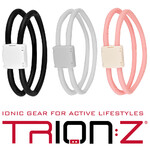 More info
Necklace TRION:Z Necklace
More info
Bracelet Trion: Z Active is included in the following categories: