Necklace TRION:Z Necklace
This stylish product is an excellent choice for sore neck and shoulders, but also a great accessory to clothes.
Recommended accessories
Description
Alternatives (3)
Necklace TRION:Z Necklace
Necklace Trion: Z is a necklace that combines patented ion-magnetic therapy in a stylish necklace, a pair of identical loops emiting negative ions and a pair of ANSPO patented therapeutic magnets. Necklace Trion: Z balances blood pressure, reduces menstrual pain, pain in muscles, joints, teeth and acts positively against fatigue, stress and depression.
TRION: Z can not be used by patients with pacemakers and pregnant women.
Technical description:
Increases blood oxygenation level
Reduces fatigue and speeds up regeneration
8 x 1.000 Gause therapeutic ANSPO magnets
Double loop of Mineon Health Fibre, material producing negative ions
More than 20 stylish colour combinations
Sizes: S = 42, M = 48, L = 57
Type: If you have not ordered Support line, you can wrap it around the ankle, during pain, stretch or inflammation of the Achilles tendon, stretched calf muscles.
Necklace TRION:Z Necklace - alternatives -
all in stock
Bracelet Trion:Z Dual Lite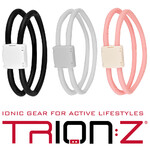 More info
Bracelet Trion: Z Dual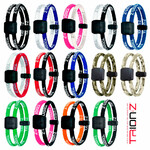 More info
Bracelet Trion: Z Active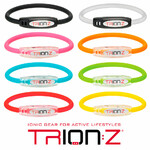 More info
Necklace TRION:Z Necklace is included in the following categories: