Bracelet Trion:Z Dual Lite
Ion-magnetic bracelet TRION: Z Lite balances blood pressure, reduces pain in muscles, joints, teeth, has a positive effect against fatigue, stress and depression
Recommended accessories
Description
Alternatives (3)
Video (1)
Bracelet Trion:Z Dual Lite
Bracelets TRION: Z LITE are made of the same silicone materials as bracelets Active. In addition, they create a new dimension of design.
Trion: Z Lite bracelet combines patented ion-magnetic therapy in a stylish bracelet. A pair of identical loops emiting negative ions and a pair of ANSPO patented therapeutic magnets. Bracelet TRION: Z Dual balances blood pressure, reduces menstrual pain, pain in muscles, joints, teeth and acts positively against fatigue, stress and depression.
TRION: Z Dual can not be used in patients with pacemakers and pregnant women.
Technical description:
Increases blood oxygenation level
Reduces fatigue and speeds up regeneration
Lightweight and waterproof silicone material
Capsules emitting a high concentrations of negative ions
2x1.000 Gause with ANSP patented technology
Sizes: S = 17cm, M = 19 cm, L = 21 cm
Bracelet Trion:Z Dual Lite - alternatives -
all in stock
Necklace TRION:Z Necklace
More info
Bracelet Trion: Z Dual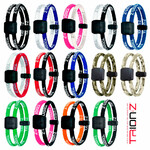 More info
Bracelet Trion: Z Active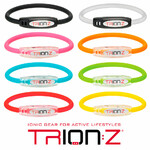 More info
Bracelet Trion:Z Dual Lite is included in the following categories: