Bracelet TRION:Z Dual Lite -
SPECIAL OFFER
Bracelet for both men and women, magnets of average strength, extra low weight, double strap, suitable for everyday use, improves physical performance, relieves muscle tension.
Recommended accessories
Description
Alternatives (2)
Video (1)
Bracelet TRION:Z Dual Lite
Bracelet TRION:Z Dual Lite strengthens respiratory and cardiovascular systems and positively affects pulse points that stimulate metabolism and fasten healing. It regulates blood circulation and prevents blood clots. It combines ion-magnetic therapy and a pair of patented ANSPO therapeutic magnets into a stylish bracelet. The unique StayersTM and patent-protected polarity order ANSPO maximizes the flow of magnetic field and allows it to reach deep tissue. The combination of negatively charged ions (1500 ions per sec) and high-quality ferrite ANSPO magnets with 1000 gauss induction is very popular. Thanks to its therapeutic properties, it is a great choice, and not just for athletes. The quality silicone is light and suitable for extreme conditions.
Negatively charged ions are a significant source of energy, they strengthen the immune system and have a beneficial effect on the mucous membrane of the respiratory system. Negatively charged ions travel from lungs to the blood flow and help to cleanse the blood of toxins. They stimulate the functions of endocrine glands, improve metabolism, have a positive effect against free radicals and balance the levels of serotonin. Serotonin (a hormone associated with happiness) is a strong neural hormone that affects the central nervous system, significantly improving your mood and sleep, as well as relieving stress. Negatively charged ions also improve your memory and overall mental capacities.
Positively charged ions have a completely reverse effect on the body than negatively charged ions. They lower blood pH, increase blood pressure, tighten veins, dry up mucous membrane and can cause arrhythmia. They can cause breathing problems, even asthmatic fits. The presence of positively charged ions may seem dangerous, but that's not true. Positively and negatively charged ions complement each other and create a balanced environment.
Ferrites are permanent magnets with the strength of 1000 gauss. They increase oxygen levels in blood, stimulate cellular regeneration, balance blood pressure and help release toxins from the system. They have analgesic effects, relieve joint or muscle ache, reduce swellings and fasten healing processes. They have a beneficial effect on degenerative and inflammatory illnesses of muscles, tendons or ligaments (tennis elbow, Achilles heel).


Technical description:
Capsules emitting a high concentration of negatively charged ions
Material: silicone
Number of magnets: 2 (2 x 1000 gauss), ANSPO patented technology
Weight: 12 g
Sizes: S=17 cm, M=19 cm, L=21 cm
Suitable for both men and women
Not suitable for nursing and pregnant women
Not suitable for people with pacemaker
Bracelet TRION:Z Dual Lite - alternatives -
all in stock
-40%
Necklace TRION:Z Necklace
More info
Bracelet Trion: Z Active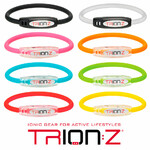 More info
Bracelet TRION:Z Dual Lite is included in the following categories: