Drink Nutrend Unisport 500 ml
UNISPORT is a hypotonic ionic drink with minerals, enriched with L-carnitine, glycine, taurine.
Recommended accessories
Description
Alternatives (3)
Drink Nutrend Unisport 500 ml
Nutrend UNISPORT is slightly mineralized drink concentrate enriched with highly effective amino acids taurine, glycine and L-Carnitine. It contains no aspartame.
UNISPORT is designed for athletes and physicaly burdenend individuals.
Unlike isotonic drinks, which are designed specifically for situations of extreme physical and thermal strains and can form only a very small part of fluids taken throughout the day, is UNISPORT a hypotonic drink (i.e. hypo-osmotic - 185 mmol/L at a rate of 1:50 ) thereby allowing virtually unlimited consumption of the drink, both before and during physical exercise and during recovery.
It should be borne in mind that most high-energy drinks contain more potassium than sodium load, which is disadvantageous for the adjustment of mineral balance in the body and completely unfit for beverage use during physical activity. The drink UNISPORT on the other hand, was developed with the correct proportion of physiologically essential minerals, namely sodium, potassium, magnesium and phosphorus. These reasons are clearly proven, tested by top-sportsmen and nowadays respected by scientific authorities worldwide.
It is intended for:
Preparation of a medium-energy hypotonic sports drink
Optimal hydration of the organism during increased physical or mental stress
Compensation for lost body fluids
Promotion of regeneration
Natural energization of organism
Mineral supplementation
Compensation for fluid loss during diarrhoea
Hydration in extreme temperature conditions
UNISPORT is suitable for solving the drinking regime of athletes and physically burdened individuals. It allows almost unlimited consumption of the drink, both before and during physical exercise and during recovery.
Packing:
Flavours:
Pineapple
White grapefruit
Bitter lemon
Peach + Passion fruit
Lemon
Black currant
Pomegranate
Green fresh
Cherry
Ice fresh
Lemongrass
Wild strawberry
Raspberry – Cranberry
Opuntia with green tea
Pink grapefruit
Orange
Green tea with lemon
Recommended dosage:
10 ml of concentrate to 6.5 dcl of water
Maximum 50 mL of concentrate per day
Children from 3 years up to 20 ml of concentrate per day
Do not use mineral water for preparation of the drink because of disturbance of the osmolality and mineral balance of the drink
Intended for special nutrition. Suitable for athletes, with sugar and sweeteners. It does not contain substances of doping character. Store in a dry place below 25 °C away from direct sunlight. Protect from freeze. Not suitable for children under 3 years of age, pregnant and nursing women! Keep out of reach of children! The manufacturer is not liable for any damages caused by improper usage or storage.
What is Carnipure ™?
Carnipure ™ is a trademark of L-Carnitine, manufactured by Swiss company Lonza. Carnipure-for-you.com
Drink Nutrend Unisport 500 ml - alternatives -
all in stock
Drink Nutrend Unisport 1000 ml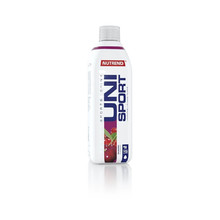 More info
Hypotonic Drink Nutrend Unisport Zero 1000 ml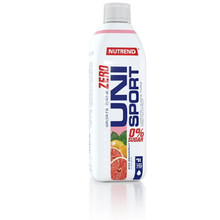 More info
Energy Drink Nutrend Smash Energy Up 500ml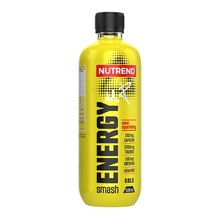 More info
Drink Nutrend Unisport 500 ml is included in the following categories: