Crampons Nortec Alp
Quality stainless steel, long points, excellent traction and perfect stability, quick and easy attachment, suitable for winter trekking, price per par
Recommended accessories
Description
Parameters
Alternatives (2)
Crampons Nortec Alp
The Crampons Nortec Alp are perfect for trekking, Nordic walking and other winter activities. However, they are also suitable for hunters or for people working in snowy areas. They can easily be attached to any shoe type. The 13 ideally placed, long points of stainless steel not only provide excellent stability even in deep snow, but also prevent you from slipping on ice, snow, dirt or other slippery surfaces. The steel structure with points is attached to a highly durable elastomer on the top side of the shoe, which keeps the crampon in place and ensures a perfect fit. Therefore, it prevents snow or fallen leaves from getting in between the crampon and the shoe. The Crampons Nortec Alp come with a high quality, compact cover with a handle for easy carrying. As a result, the points will not do any damage to the other items in your backpack. The Crampon Nortec Alp are perfect not only for mountain lovers, but also hunters and those who work in snowy areas.

Technical description:
Practical crampons
Excellent mechanical durability
Heat treated stainless steel points
Excellent traction
Perfect stability
Quick and easy attachment
Velcro strap
Extremely lightweight
Come with durable, polyester cover
Suitable for trail running, trekking, Nordic walking hunting and/or working in snowy areas
Number of points: 13
Point length: 7mm, 17mm
Material: stainless steel, silicone elastomer
Weight: 460g (pair)
Crampons Nortec Alp - Product parameters
Weight (g)
The total weight of the product.
460 g
Crampons Nortec Alp - alternatives -
all in stock
Crampons Nortec Trail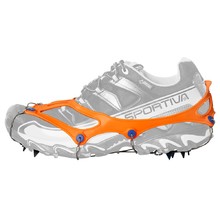 More info
Crampons Yate Blue Ice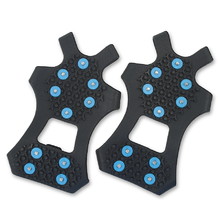 More info
Crampons Nortec Alp is included in the following categories: