Sports Watch inSPORTline Fit -
SPECIAL OFFER
Heart rate monitor that is easy to use, three target heart rate zones, notification when you surpass the given limit.
Recommended accessories
Description
Parameters
Alternatives (2)
Video (2)
Sports Watch inSPORTline Fit
Sports Watch inSPORTline FIT is a modern device with a number of functions. It is suitable for a wide range of sports activities. Sports Watch inSPORTline FIT's main advantages include a large back-lit display, user-friendly interface and a number of functions. Thanks to the advanced functions and accurate monitoring of your heart rate, the sports watch can accurately determine and evaluate your sports activities. Part of the package is an ergonomically shaped chest strap that fits snugly around your chest and doesn't get in the way.


Technical description:
Modern sports watch with a number of functions
Watch functions: date, time, alarm
Easy-to-read back-lit display
Simple interface
Monitoring heart rate frequency with EKG precision
Suitable for a wide range of sports activities and training management
Reducing fat by adjusting your training according to your heart rate frequency
Modern design
Water resistance (real): 0 m (splashing water, rain)
Weight: 47 g
Easy to use
Functions:
Special functions: one-button control
Counting the number of calories burned
Maintaining target heart rate
3 re-set heart rate zones
1 adjustable heart rate zone
Maximum heart rate frequency
Average heart rate frequency
Notification if you reach/surpass the target heart rate frequency
Measuring the time spend exercising in the target heart rate zone
Stored training data – you can revisit the data and evaluate the results
Included:
Watch
Chest strap
Battery
Manual
Sports Watch inSPORTline Fit - Documents to download
Sports Watch inSPORTline Fit - Product parameters
Sports Watch inSPORTline Fit - alternatives -
all in stock
Sports Watch inSPORTline Diverz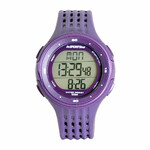 More info
Sports Watch inSPORTline Cord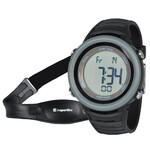 More info
Sports Watch inSPORTline Fit is included in the following categories: