Electric Skateboard Skatey 150L Wood Art
Bluetooth remote control, 2 speed levels, anti-slip deck, lightweight.
Recommended accessories
Description
Parameters
Alternatives (1)
Video (2)
Electric Skateboard Skatey 150L Wood Art
The Electric Skateboard Skatey 150L Wood Art is perfect not only for riding to school and/or work, but will also come in handy on trips and holidays. This longboard features a lithium battery which charges to full capacity in 1-2 hours. Moreover, it allows for a 17km range. Thanks to its weight (5kg) and length (80cm/31"), you can carry the longboard around when you are not riding on it. The deck features an anti-slip grip tape for better safety. The large, 84mm wheels will deal with an uneven surface.
The Bluetooth remote control not only allows you to regulate the speed during the ride, but also displays the motor/remote control battery status. In order to save the energy, both the motor and remote control batteries automatically turn off when idle for 5 minutes. The remote control charges via a USB port. Beginners may also appreciate the safer, slow speed mode.

Store the battery in shady and dry place with temperature between 10°C and 20°C. Before long-time storing, charge it fully and recharge at least every 6 months up to 100% of its capacity.
Technical description:
31" electric longboard
Bluetooth remote control
2 speed levels
Max speed: 15kph
Range on single charge: 17km
Weight: 5kg (including battery)
Weight limit: 60kg
Charging speed: 1-2 hours
Battery capacity: 4.4Ah / 12V
Battery type: lithium
Motor power: 1x150W
Deck material: Canadian maple
Grip tape: printed
Wheels: 84mm, PU
Dimensions: 80 x 30 x 18cm
Recommended age: 8+
Warning: Store the battery in a dry place and away from light, with room temperature between 10°C and 20°C. Before storing it for a longer period of time, charge the battery to full capacity. Repeat the process every month.
By following these instructions, the rated capacity of the battery will not fall below 70% of its total capacity within 12 months of purchase.
Electric Skateboard Skatey 150L Wood Art - Product parameters
Board length
The length of the board is basically the length of the entire item. The longer the board, the more space there is. On the other hand, shorter boards are easier to carry around. The length is usually given in inches. 1 inch = 2.54 cm.
31
Board material
Boards are usually made of wood. The highest quality you can get is Canadian maple. Other types of wood present more affordable options.
The cheapest option are boards made of PVC or other plastic material. Aside from price, their advantage lies also in high durability. However, we recommend them mainly for beginners, only occasional riders and children. They are also not really suitable for stunts. The exception are penny boards, where the majority of products is made of plastic.
Canadian maple
Wheel material
These days, most skateboard, penny board and longboard wheels are usually made of the same material - polyurethane (PU) with various admixtures. It's because these wheels have good riding qualities and are resistant to damage. Wheels made of PVC are recommended mainly for children. Their advantage is a low price.
PU rubber
Weight limit (kg)
By observing the weight limit of the product, you significantly increase its service life and prevent it from wearing down prematurely. It is not recommended to exceed this limit.
60 kg
Board width
Standard board width ranges between 17.5 cm (7") and 21 cm (8.25"). However, there are both wider and narrower models. Generally speaking, narrower boards under 20.1 cm (8") are better for beginners or riders that are not that tall. Wider boards are more suitable for advanced and taller riders.
30 cm
Electric Skateboard Skatey 150L Wood Art - alternatives -
all in stock
Electric Longboard WORKER Smuthrider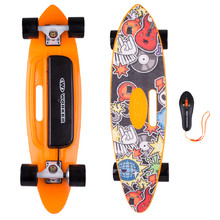 More info
Electric Skateboard Skatey 150L Wood Art is included in the following categories: