Tent FERRINO Shaba 4 -
SPECIAL OFFER
Comfortable tent for 4 people, two entrances with mosquito nets, spacious vestibule, additional removable floor, reinforced bottom.
We are sorry, but this product is no longer available.
Recommended accessories
Description
Parameters
Alternatives (2)
Tent FERRINO Shaba 4
The Tent FERRINO Shaba 4 is a tourist tent for four people. Providing maximum space and comfort, the tent features two entrances with mosquito nets which protect against mosquitoes and other insects. The front entrance features a vestibule and additional removable floor. The structure of the Tent FERRINO Shaba 4 consists of 3 fiberglass poles. This is a double skin tent. The inner tent is attached to the structure with removable clip-on hooks for quick set-up. The covered-up air vents ensure excellent ventilation. The tent also features the following accessories: a lamp hook, steel arch poles, replacement poles, two hooks and a sack. Inside the tent there are a number of pockets for storing your personal items. The Tent FERRINO Shaba 4 is perfect for camping fans as it provides a high level of comfort.
Technical description:
Tent for 4 people
Mosquito net
2 entrances
Integrated floor
Ventilation system
Spacious vestibule
Water-repellent circumferential collars
Rooms separated with partition wall
Spacious transportation bag
Floor sewn together with fly-sheet
Replacement poles included
Lamp hook
Volume: 6.9m3
Weight: 7kg
Number of rooms: 2
Number of entrances: 2
Folded dimensions: 24 x 58cm
Unfolded dimensions: 320 x 420cm
Structure material: fiberglass
Outer material: polyester
Tent FERRINO Shaba 4 - Product parameters
Weight
The total weight of the product.
7.90 kg
Packing dimensions
24 x 58 cm
Dimensions to utilize
450 x 240 x 205 cm
Frame material
Fibreglass
Tent FERRINO Shaba 4 - alternatives -
all in stock
Tent FERRINO Tenere 4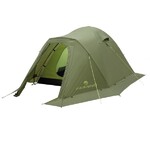 More info
Tent FERRINO Proxes 5
More info
Tent FERRINO Shaba 4 is included in the following categories: