Travel Bag FERRINO Cargo Bag
Suitable for long journeys, waterproof material, transportation wheels, two side pockets, reflective strips, name tag pocket, reinforced handles.
We are sorry, but this product is no longer available.
Recommended accessories
Description
Parameters
Alternatives (1)
Video (1)
Travel Bag FERRINO Cargo Bag
The 100l volume makes the Travel Bag FERRINO Cargo Bag suitable for long journeys. It features a practical shoulder strap, which is padded and anatomically shaped to make the carrying as convenient and comfortable as possible. The bag also features practical handles for easy grip. Aside from the large main pocket, there are two side pockets for storing items you need to access quickly. You will also appreciate a transparent name tag pocket and reinforced and easily accessible zipper. The bag also features large eyelets for attaching a padlock for better security. The reflective strips improve the visibility of the user in low light conditions. As the Travel Bag FERRINO Cargo Bag is made of a waterproof material, it will keep the contents dry even in the rain. There are two transportation wheels on the bottom for easy transportation.
Technical description:
Suitable for long journeys
Waterproof material
Padded and anatomically shaped shoulder strap
Reinforced handles
Two side pockets
Easily accessible zipper with large eyelets for attaching padlock
Inside and outside compression straps
Two transportation wheels
Reflective strips
Transparent name tag pocket
Volume: 100l
Material: Supertex PVC
Weight: 3.5kg
Dimensions: 80 x 35 x 35cm
Weight limit: 100 kg
Travel Bag FERRINO Cargo Bag - Product parameters
Weight (g)
The total weight of the product.
3500 g
Reflective features
Reflective features exponentially increase the user's visibility. They are suitable especially for winter months that come with mists and early sunset. However, they shouldn't be forgotten even during summer.
Reflective features on clothing items usually take the form of a reflective lettering or stripes that don't clash with regular wear.
yes
Material
Supertex enforced with PVC
Extremely durable material. Highly resistant to tear and water.
Ergonomically shaped back
no
Travel Bag FERRINO Cargo Bag - alternatives -
all in stock
Travel Bag Aqua Marina 90l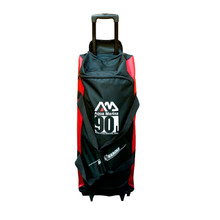 More info
Travel Bag FERRINO Cargo Bag is included in the following categories: