Ložiska WORKER ABEC 7 Chrome
Ložiska určena pro in-line, koloběžky a skateboardy, oboustranně kryté proti prašnosti.
Recommended accessories
Description
Parameters
Alternatives (3)
Ložiska WORKER ABEC 7 Chrome
Ložiska WORKER ABEC 7 Chrome se vyznačují vysokou přesností provedení. Mají delší životnost, nízké tření (valivý odpor) a vyžadují jen minimální údržbu. Jsou určena pro kolečkové brusle, skateboardy a koloběžky pro vyšší zatížení.  

Technický popis:
vysoká přesnost
oboustraně kryté proti prašnosti
dlouhá životnost
nízký valivý odpor
tvrzená chromová úprava
doporučené zatížení: max. 120 kg
vnější průměr: 22 mm
vnitřní průměr: 8 mm
balení obsahuje 8 ks (pro kolečkové brusle potřebujete 16 ks, pro boardy 8 ks, pro koloběžky 4 ks)
Ložiska WORKER ABEC 7 Chrome - Product parameters
ABEC
The ABEC standard denotes the precision of bearings manufacture. It describes the possible margin of error. The higher the number, the more presicely made the bearings are. The cheapest skates feature ABEC 3 bearings. The most common are ABEC 5 and ABEC 7 bearings. Fast skaters should look for bearings of the highest quality, that is ABEC 9.
7
Outer diameter
An outer diameter means the diameter of the entire bearing. Standard bearing size is 22 mm. Any other cannot be found in our selection.
22 mm
Inner diameter
Inner diameter is the diameter of the hole in the bearing. Standard is 8 mm.
8 mm
Pcs per package
The number of bearings you need depends on the number of wheels your kick scooter, skateboard or skates have. For each wheel, you need two pcs of bearings. If you want to replace all bearings, you need four for scooters, 16 for in-line skates and 8 for skateboard.
8 pcs
Ložiska WORKER ABEC 7 Chrome - alternatives -
all in stock
-46%
WORKER ABEC 1 bearings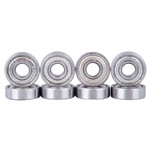 More info
-49%
WORKER ABEC 3 bearings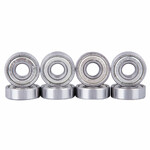 More info
-33%
Aluminium Bearings Spacer FOX PRO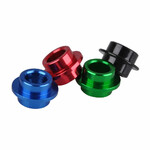 More info
Ložiska WORKER ABEC 7 Chrome is included in the following categories: