Electric Pump Aqua Marina -
SPECIAL OFFER
12-V electric pump, clamps included, including a lighter adaptor, in-built gauge.
We are sorry, but this product is no longer available.
Recommended accessories
Description
Alternatives (2)
Electric Pump Aqua Marina
Electric Pump Aqua Marina is suitable for inflating paddleboards, kayaks and boats. Its high output assures extremely fast inflating. Using the lighter adaptor, you can inflate directly from your car. Due to clamps, you can inflate by using a car battery as well.


Technical parameters:
12V electric pump
Clamps and adaptor included
In-built gauge
Output: 168 W
Pressure: 1.38 bar
Inflating speed: 0.07 bar/min
Deflating speed: 0.28 bar/min
Suitable for: paddleboards, kayaks and boats.
Battery not included
Electric Pump Aqua Marina - alternatives -
all in stock
Aqua Marina Speedy Boat Canopy
More info
Boat Motor Aqua Marina ET-30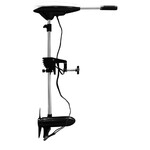 More info
Electric Pump Aqua Marina is included in the following categories: