Sports Watch Suunto Ambit3 Vertical (HR) -
SPECIAL OFFER
Functions with state of the art accuracy, compatible with latest technology, outdoor and indoor activities, ease of use, high-quality manufacture, chest belt included. For athletes who aim high.
Recommended accessories
Description
Parameters
Alternatives (1)
Sports Watch Suunto Ambit3 Vertical (HR)
Sports Watch Suunto Ambit3 Vertical is a high-quality accessory for any athlete who wants to record their performance in order to make it even more effective in the future. This new unique model allows you to follow your total amount of ascended and descended meters, as well as the altitude profile of a planned route. The recorded route will be stored for 100 h. Combined with GPS, it will meet all necessary requirements and surpass all competition entirely. Sports Watch Suunto Ambit3 Vertical has special functions for climbing, running, swimming, cycling, as well as multi-sport training. The integrated GPS provides information about your pace and helps you maintain the correct direction while the heart rate monitor allows you to work in the ideal heart rate zone. The watch features a back-lit display with several mode options, 3D compass with a δ declination function that determines the angular distance from the equator, and an in-built accelerometer that allows you to follow running cadences. Last, but not the least, there is the very popular function of recognizing swimming styles, along with a stroke counter. Supporting multi-sport modes, Sports Watch Suunto Ambit3 Vertical makes a suitable alternative for all combined sports (triathlon, crossfit, cross-country running). Combined with a chest strap Bluetooth Smart HR, it allows you to record HR and a complete progress of all activities including the route, and store all the data into its high-capacity memory. Other important functions include navigation via routes downloaded from PC and a function that allows you to trace your route back to the point of origin. Transferring the data into your PC and Movescount account, maintaining a training journal automatically improves your performance strategy and makes the results much more effective. Sports Watch Suunto Ambit3 Vertical is made up of a silicone strap with fibre glass, steel bezel and a crystal glass water resistant up to 100 m. Thanks to the quality of the materials, it is suitable even for extreme conditions. The package includes the watch and charging / connection cable.
Sports Watch Suunto Ambit3 Vertical represents a new improved training series of watches for all sports enthusiasts. It features more functions, simpler menu and a very precise navigation. The watch uses Bluetooth and is compatible with iPad 3, as well as the newer iPad Mini/iPad Air, iPhone 4S/iPhone 5/iPhone 5c/iPhone 5s/iPhone 6/iPhone 6 Plus, iPod Touch 5 and OS Android 4.4, expanding its features though many other sports apps. With a unique function – experience and SHARE – you can add photos to your Movescout account or Movescount App, or create Suunto films with a 3D map, sharing your experience though social media. In combination with the Suunto Comfort Belt chest strap, the watch provides comfort under any conditions.

Technical description:


Sport design
High quality
Cutting-edge manufacture
Great durability & low weight
GPS integrated (speed, heart rate, distance)
Road planner&Topographic maps
Road navigation and following back road trip (PC)
Height profile and visualization (route, elevation, vertical speed, exit / descending)
Altitude (FusedAlti ™, graph)
Vibration time remider
Dual time watch, stopwatch, Countdown time
Vertical earnings (sums per day, week, month and year)
Real time - hill climb (in %)
3D compass with declination setting d
Storm alarm
Depth gauge
Back-lit display (optional mode)
Heart Rate (chest belt Suunto Comfort Belt included)
Bluetooth (Support Bike Performance)
Training diary (+ Recording of activities, including the route)
Interval and exercise planner
Quick recovery and sleep quality test (Firstbeat)
Movescount (training application)
Accelerometer (watching running cadence)
Recognition of swimming styles (temperature, swimming pools)
Support multisport regime (triathlon terrain runnin)
Wide range of functions with Suunto Apps (mobile notifications)
Compatible with Stride Running power meter
Compatible with Bluetooth Smart Power sensor ( heart rate frequency)
Weight: 73 g
Dimension: 50 x 50 x 15,5 mm
Material: polyamide
Luneta: steel
Glass: minerals
Waterproof: 100 m
Lasting:10 hours/1sec,15 hours/5sec., 100hours/60 sec., GPS(14 days without GPS)
Multilanguage menu
Suitable for both men and women
4 different colour variations
NOTE: Suunto Ambit 3 Vertical is not compatible with ANT +TM technology (you can't use any Suunto accessories from the Ambit and Ambit2 models, such as Suunto ANR PODs Suunto Dual or Suunto ANT belt)
Sports Watch Suunto Ambit3 Vertical (HR) - Product parameters
Heart rate monitoring
Chest strap
Water resistance (real)
There are several ways how to describe water resistance in sports watches. To make it easier for you, we state the REAL value your sports watch will be able to resist. The number of meters given is the real depth up to which you can safely reach with your watch.
Watch water resistance can be divided into three categories:
- 0 metres - almost zero water resistance, the watch will resist only splashing water and rain
- 1 metre - watch can be used when you shower and wash your hands
- 30-100 metres - a watch you can bathe, swim and dive with
100 m
Czech option for interface
yes
Daily activity monitoring
yes
Weight (g)
The total weight of the product.
74 g
Sports Watch Suunto Ambit3 Vertical (HR) - alternatives -
all in stock
Sports Watch Suunto Elementum Aqua n' Steel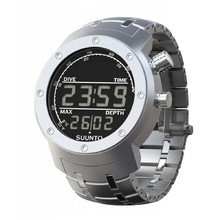 More info
Sports Watch Suunto Ambit3 Vertical (HR) is included in the following categories: